It was nearly 9 a.m. as the bus made its rough, winding way up the mountain toward Universidade Federal de Santa Catarina.
In her seat, senior Jill Neeley let the Portuguese language rush past her ears as she focused on her daily commute.
This bus is just going to tip over, she thought, but her precarious rides never led to any crash.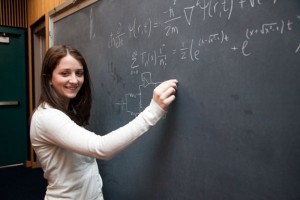 When Neeley reached the station, she chose not to get on a transfer. She'd walk the next half hour that day to explore.
"I just like to experience new places and meet new people," Neeley, who spent the summer after her sophomore year in Brazil, said. "It's just fun to put yourself out of your comfort zone and not know what you're going to do."
That's exactly what Neeley, a math and physics double major, did in Brazil during her eight-week Research Experience for Undergraduates program. Her love for traveling and her interest in astronomy have taken her around the world.
Because Ithaca College doesn't have an astronomy program, she applied math, science and traveling to her interest in stars. Neeley said she got her first taste of astronomy freshman year in her Stars, Galaxies and the Universe course, one of two celestial classes offered at the college.
"I always liked it," she said. "I decided, why not try to make a career out of it?"
For Neeley, astronomy allows a pragmatic approach to philosophy.
"I like astronomy because it answers philosophical questions like creation of the universe with real scientific facts," she said. "You can actually prove it rather than just thinking about it."
Neeley's globe-trotting goes beyond her on-campus commitments, which include doing math honors research, tutoring and being a teacher's assistant for the department of modern languages and literatures.
By junior year, Neeley was spending the summer at Louisiana State University in Baton Rouge, La., examining the brightness of stars, where she said she learned how to question more about the universe and jump into the unknown.
"My adviser was really great about helping me think about a lot of different things and would give me questions every day," she said.
For her latest observation, Neeley traveled to Hawaii with Beth Ellen Clark Joseph, associate professor and chair of the department of physics, to work with NASA's Infrared Telescope. Neeley and Clark Joseph have been working together since the start of the fall semester, when the department recruited a new research student.
"Jill was the best," Clark Joseph said. "She statistically determines for us if an asteroid is more likely to be a member of one meteor class than another."
During the fall, Neeley had remotely observed stars over Hawaii from a computer. At 14,000 feet above sea level and with the Hawaiian observatory's metallic dome behind her, she was at home.
Clark Joseph said Neeley's contributions to this project have helped the team immensely.
"I hope to convince her to stay after she graduates for the summer and help us complete her part of the project," Clark Joseph said.
But Neeley has her eye on the graduate astronomy program at the University of Washington, Seattle.
"They have the best facilities for observing, and I want to be warm," she said with a smile. "If you go somewhere like CalTech or MIT, that's your whole entire life, and I don't want work to be my entire life."
One of her favorite ways to kickback is by hanging out with her two best friends and roommates, seniors Alicia Blanchard and Charlotte Atti.
Blanchard has been friends with Neeley since their freshman year. She said though Neeley is usually busy with research or classwork, Neeley always finds the time to be a good friend.
"She's reliable and kind — always there when you need her," Blanchard said. "I'm lucky to have someone like Jill in my life."
Outside of the observatory in Ithaca, Neeley takes the time to reflect on her four years at the college. If she had never joined the research team with her professors, she wouldn't have been able to narrow down her interests.
"At first, I thought I didn't have what it takes — observing at two or three in the morning and going to class," she said. "And then I realized I was a student, and it wouldn't be like this forever."