Senior Kasey Stevenson was only 3 years old when she started doing research for her future career working with the elderly.
Her grandmother, Bobbie Bozzone, used to take her to a nursing home in her hometown of Huntington, N.Y., to visit with the residents when she was a toddler.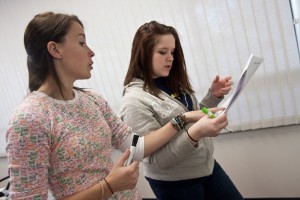 "I would walk her around the table where [the older people] were sitting, and she would stop and talk to each person along the way," Bozzone said.
Stevenson, an aging studies major, has spent her college career dedicated to her work in the gerontology program. Not only is she president of the college's gerontology club AGES, but she also began an art therapy program to help stroke patients at Longview trying to communicate as an independent study.
Stevenson said going to nursing homes with her grandmother, who also works in gerontology, helped her be more relaxed in her work.
"It definitely helped me to be comfortable once I was in that situation talking to older people and going to nursing homes," she said.
Gerontology was not Stevenson's original college dream, though. She said for a large part of her life she focused on art.
"The whole time in high school I was very involved in art," she said. "I wanted to go to art school."
Stevenson spent her first semester in college at Syracuse University as an art major. But she said the strict and regimented atmosphere was not what she had imagined.
"Once I finally got [to art school], I just realized I didn't really like the way they were teaching the classes," she said. "A lot of people would cry in class, and I just thought that that was kind of silly because I used art mostly just to express myself. I didn't think it was worth all the stress."
Already acquainted with the welcoming and active atmosphere of downtown Ithaca after visiting a friend at Cornell University, Stevenson transferred to Ithaca College for the spring semester of her freshman year. She was enrolled in a random set of classes, as students had already chosen and filled most classes. One of those classes was Introduction to Aging Studies with Mary Ann Erickson, associate professor of gerontology and Stevenson's adviser.
Stevenson said she was immediately drawn to the program because of how free it seemed.
"It was so drastically different from the art, which was very strict," she said. "There was a certain way to do things, and it was very structured. Gerontology is very much the opposite, because you're always interacting with other people."
Erickson said in gerontology, it's all about connecting with other people, something Stevenson does well.
"For a lot of people, it's meeting people who have interesting stories," she said. "Stevenson has always seemed to know about that focus."
Stevenson, who will get her master's degree to become a case worker after graduation, said her background in art has helped when working with stroke patients. In her study, Stevenson gave patients paper and paintbrushes, played music and let them dive into the art.
"The fact that I use it mostly for communication, it helps me to remember that verbal communication is not the only way that people really interact with each other," she said.
Since this project, Stevenson has also done an internship as a case manager for the Harbor House Assisted Living Center, a family-owned assisted living company. There she worked with patients with dementia.
Stevenson said working as a case manager for people with dementia is an interesting job because of its unpredictability.
"Each day is very different," she said.
Bizzone said gerontology has become the perfect field for her granddaughter, as Stevenson is committed to listening and connecting with older people.
"She's very caring, and she really seems to love the old people and understand them," Bizzone said. "Sometimes they're difficult to work with, but she seems to have a very good personality for working with them."