When studying for midterms, sending e-mails to other students, organizing fundraisers and applying for jobs fill up senior Allison Walker's plate, she doesn't get stressed.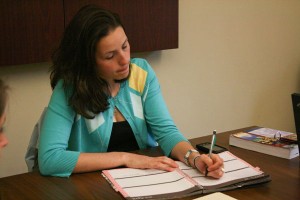 She gets busy.
"I really enjoy being very busy," she said. "And I really like the feeling of knowing I am helping someone else."
Walker, a business administration major, wants to make the most of her final year in college. Aside from being the president of  Women in Business, one of the captains of the women's club Frisbee team and the manager of the Student Service Team for the School of Business, Walker is paying for every penny she spends at Ithaca College.
"The value of my education is much greater because it's really in my own hands," she said. "I'm the person who hands in my tuition check in the spring. I'm the person who feels the emptiness inside when my bank account goes from $7,000 to zero."
Though financially Walker is not supported by her family, she is emotionally. After Walker's mother went blind about 13 years ago, when her retinas tore, Walker said no one has been more inspirational than her "Super Woman" mom.
"She is very self-motivated," Walker said. "She cooks dinner for my family every day, she goes to the grocery store, she does most of the shopping, and she does it without any inkling of nostalgia for what her life was."
Patricia Davis, Walker's mother, said she might have inspired her daughter but that sometimes Walker still needs a little guidance.
"There's only seven spots for classes [in high school], and Allison would be enrolled in nine [classes]," Davis said. "She's always on the go. She's always involved, and she's always been that way."
Being "on the go" all the time can sometimes bring stress for Walker, but the one thing she can rely on to take her mind off of academics is Frisbee.
Walker joined the women's club Frisbee team as a freshman.
"I walked on to the first practice, and I was terrible," she said. "But I decided to stick with it."
Now, she runs practices for the club. Walker said her commitment to the team could be stressful, but she said she loves the two-to-three-hour practices three days a week.
Walker's friend and teammate senior Annie McNally said it's easy to see Walker's dedication to the team on and off the field.
"She's very organized, very driven, and she doesn't like to waste time," McNally said.
Watching Walker progress into the talented player she is today was amazing, McNally said.
"She's so passionate about it," McNally said. "Everybody is a terrible player when they start. More than anything else the hard work she put in got her where she is in an unbelievable amount of time. She's going to be one of the best female players I have ever met."
McNally and Walker joined the team their freshman year. McNally said she was surprised to see the organized Walker in such a laid-back sport.
"I always thought it was weird that Allison had involved herself in this sport that was not necessarily as competitive as you would think she might like," McNally said.
On the field, Walker is known for her intensity, but in the workplace she is known for her productivity. Walker is the assistant to Catrina Decker, administrative assistant in the School of Business, and the manager of the Student Service Team. Decker said while Walker is responsible for handling the tedious tasks of e-mailing students and organizing meetings, she never lets on about the other work that is on her to-do list.
"If I were involved in everything she is doing, I would just be freaking out all the time," Decker said. "Allison is not. She's like, 'OK, this is what we have to do. Let's do it.'"
Walker said though she loves being involved in so many things, she wishes she was better at using her creativity in her work.
"I had an internship this past summer, and my boss had his Ph.D. in psychology," she said. "And he described my personality perfectly. He said I can run with any idea, but I can't make the idea myself."
Walker, who hopes to attend graduate school at the University of Memphis next year and eventually become an executive director for a company, said she does it all with one goal in mind — results.
"The problem with me is that I have so many things that I want to do that I can't possibly do all of them," she said. "But I really like the idea of being able to see the results of my work."