The Ithaca College football team has suspended its four senior captains and three additional players from this Saturday's game for violating team rules, Head Coach Mike Welch said.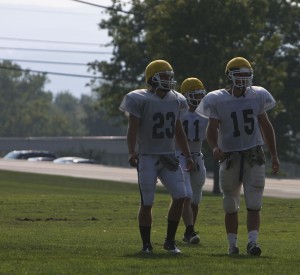 Welch said the following players have been suspended: David Ahonen, graduate student, captain and strong safety; Daniel Higgins, senior, caption and tight end; Dan Ruffrage, senior, captain and wide receiver; Tom Vossler, senior, captain and wide receiver; Spencer White, junior and corner back; Jason Hendel, sophomore and quaterback Kevin Cline, junior and strong safety.
The players were suspended for violating team and athletic department rules, Dave Maley, associate director of media relations, said.
Welch declined to comment on what team rule the players violated and if any other players were involved because of the "privacy of the student athletes."
The players will only be excluded from Saturday's game against St. Lawrence University. Welch said the players would continue to practice.
Nate March, play-by-play broadcaster for WICB, said it would likely be a low-scoring game since many of the suspended players are on the offensive side of the ball. Even though the Bombers will be down players, they still have a good chance to win Saturday's game, March said.
"If you put a gun to my head I would still say they win this game," he said. "There might not be another team on the schedule that I would say that about if you were playing without these players. But with St. Lawrence, a team that … only got into the opposing red zone 18 times all last season, you have to believe the Bombers still should be strong enough to come away with a win at home."
Last updated at 7:30 p.m. Tuesday.