Seated in a wheelchair last Thursday on the stage in Emerson Suites, comedian Jeff Charlebois joked about popping wheelies, dating and dealing with his disability in everyday life.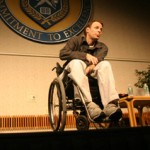 Charlebois, who was paralyzed in a car accident in 1979, shared his experiences through a comedic routine, kicking off the events scheduled for National Disability Month at Ithaca College.
According to a 2002 U.S. Census Bureau report, 51.2 million people in the United States had some level of disability, and 32.5 million people lived with a severe disability.
The distinction between a severe and non severe disability is based on an analysis of how well a person can perform "major life activities," including hearing, speaking and getting out of bed.
Sophomore Hayley Henderson, a Student Government Association (SGA) senator and the chair of SGA Handicap Accessibility Committee, said the college has held other events to raise awareness, but this is the first time SGA has highlighted the entire month of October for the cause.
Henderson said it is crucial to recognize the cause because people need to know how to deal with them. She said everyone should realize disabled persons are just like everyone else.
"It is an issue that they are going to be facing throughout their entire lives," she said.
Events also highlighted the presence of disabilities on campus. On Monday in the Clark Lounge, Irene Scott, coordinator for desktop technologies acquisitions for Web, systems and departmental services; David Garcia, associate provost; Nancy Rader, professor of psychology; and Bruce Henderson, professor of speech communication, answered questions from the community about each of their disabilities.
Scott, who suffers from hearing loss, said she hoped the panel would educate attendees about how different disabilities can be.
"There are so many types of disabilities," she said. "Many of which are not physical."
Garcia, who has a speech disability, said he has struggled with a speech stutter since childhood.
"I have had more difficulty speaking in my life than not," he said.
Junior Elizabeth Wetmore, a physical therapy major, said she attended the event to learn about the disabilities she may face in her career.
"I hope to gain insight into some of the issues that may be affecting my future patients," she said.
On Tuesday, SGA brought members of Camp Heartland Journey of Hope, a camp in Minnesota for people affected by HIV/AIDS, to share their experiences.
The event, which showed the medical aspect of disabilities, featured four members of the camp between 12 and 26 years old. Ray, 26, a camp member, spoke about his experience living HIV positive. He has been infected with the disease since birth.
"My mother … unknowingly passed it onto my father," he said. "They were both diagnosed in 1985."
SGA also hopes to provide a lighter side to raising awareness. On Oct. 23, the organization will screen "Murderball," a film about quadriplegics who play full-contact rugby in wheelchairs.
For the last event Little Theatre of the Deaf, from Hartford, N.Y., will perform Oct. 31 in IC Square. The show combines sign language and spoken words.
Freshman Isabel Kaufman, who attended Monday's discussion panel, suffers from a disability. She said students should realize disabilities are not something to be ashamed of.
"Disability is not a bad thing," she said. "You should be proud of it, because like they said in there, it is who you are."