The season of unpredictable weather has continued with heavy snowfall finally arriving on South Hill — in the end of April.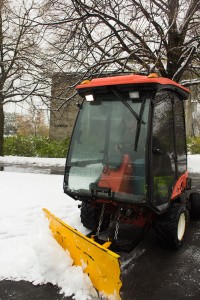 The snowfall, estimated at 5.4 inches according to Weather.com, arrived unexpectedly throughout last night and has left students, including freshman Jessica Lubas, bewildered, as just last week many were sunbathing across campus and preparing for the warm months of summer.
"I'm a little confused," Lubas said. "I already sent home all my winter stuff, so I don't know what I'm going to do now."
David Dray, assistant director and security chief of the Office of Public Safety and Emergency Management, said he's been informed of a few weather-related incidents in the local community, but he has yet to hear of any faculty members unable to report to their classes.
"I know some people have been sliding in ditches, and some cannot get out of their driveways," Dray said. "That may affect some professors to get to teach their classes, staff to get to work or students to attend their classes."
Sophomore Darvin Perez, who lives off campus, said the snowstorm only mildly affected his bus travel, but made waiting for the bus all the more burdensome.
"The bus was delayed by five minutes," he said. "We were getting snowed on and rained on outside. It was bad."
Perez, also a member of the crew team, said though the weather has not affected their schedule, he is not looking forward to practice.
"We're going to have to go in the water today, even with the snow," he said.
Rick Couture, associate vice president in the Office of Facilities, said snowstorms, particularly those toward the end of April, are difficult to predict in terms of how they will impact the campus even when they are expected, like this one. Though Facilities employees had stored most plowing supplies before the storm, Couture said, staff was instructed to come in as early as possible to prepare the snow removal equipment beforehand.
"We have had grounds staff here since early in the morning helping to clear roads and parking lots," Couture said. "We also have Facilities Services' staff that work third shift who have been helping to clear building entrances and sidewalks. When our daytime crew arrives, they also help clear snow, as that is our priority."
To accommodate the need to clear snow from parking lots, many freshmen, including Sabrina Dorronsoro, were forced to move their cars to the freshmen parking area near Emerson Hall.
"I had to move my car all the way to Z-Lot this morning," Dorronsoro said. "So I had to wipe all the snow off my car, which was really thick, and then walk all the way back to Campus Center. My shoes were filled with water, and my socks were wet — it was really bad."
Sophomore Kiara Lora said the snowfall and the abrupt temperature change caught her off guard — and not in a good way.
"Going from 85 degrees to 30 is confusing, and it ruined my day," Lora said. "I was at least hoping for most of my classes to be canceled because of it, but I guess not."