Following a year of demonstrations from students and Ithaca residents, Sodexo dining hall employees have won the battle for a campus-wide living wage at Ithaca College. But students and employees are still looking for more changes.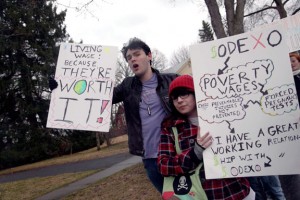 Starting Sept. 1, all Sodexo dining hall employees at the college will earn at least $11.11, the living wage in Tompkins County. Sodexo will increase wages for about 40 dining hall employees at the college who earn less than the living wage. The company also agreed to raise wages for its other employees to avoid inequality between lower and higher paying salaries.
Jeff Scott, Sodexo supervisor at the college, announced the wage increase to Sodexo dining hall employees last Thursday.
Brian McAree, vice president of student affairs and campus life, said both the college and Sodexo agreed that raising dining hall employee wages was in the best interest for Sodexo workers at the college.
"We were able to work with Sodexo and within their budget to figure out how to pay for this increase," McAree said. "For next year and as we move forward, [this] is not going to result in an increase in room and board costs to students."
Monica Zimmer, public relations director for Sodexo, said the corporation strives to provide competitive wages.
"Ithaca College leaders expect that a long-term partner like Sodexo would meet the standards that they hold for the community," she said. "We talked about it, and we're pleased to make that happen because we really value our partnership."
Senior Kiera Lewis, organizing coordinator for the Labor Initiative in Promoting Solidarity, said she is excited that the work of LIPS and other Ithaca residents has promoted change.
"It really shows that in Ithaca, focusing on the grassroots, focusing on connecting with community members and elected officials and working together with the community can really bring about the most change," she said.
But Lewis said the college did not agree to adopt LIPS' all-campus living wage proposal, which not only called for a living wage for all Sodexo dining hall employees but also included changes to the employees' health care packages and grievance policy.
Some dining hall workers are disappointed that Sodexo employees who have worked at the college for 15 to 30 years only received a 25-cent raise.
One Sodexo employee* said she was excited the college passed the living wage but was upset her wages only increased from $14.00 to $14.25 per hour after working at the college for 30 years.
"I'm glad they did it, but they could have done better [for] people who have been here a long time," the employee said. "They should have done better than 25 cents."
LIPS' efforts are on par with other colleges and universities across the nation who continue to fight for a campus-wide living wage or protest Sodexo's labor practices. At Emory University in Atlanta last month, students arranged a seven-hour sit-in at their president's office, and six students were arrested after protesting Emory's Sodexo contract.
Lewis said she is pleasantly surprised the college resolved the issue in less than a year and hopes the achievement will mean better results for other universities nationwide.
"Sodexo's now set a precedent with Ithaca College," Lewis said. "Other schools can pressure the company to make changes and pay a living wage to their employees."
Sophomore Amanda Sirois, a member of LIPS, said the club's next step is to make sure the living wage is continually implemented and plans to maintain and strengthen its relationships with many of the Sodexo employees at the college.
"We have to make sure we keep in conversation with the administration to make sure that they're still talking to Sodexo because this technically isn't the end of the fight," she said.
McAree said the college is happy to reach a new resolution with Sodexo.
"We know this is good for our workers here and for the local community, and we're proud of that outcome," he said.
Pete Meyers, coordinator and one of the founders of the Tompkins County Workers' Center, said obtaining a college-wide living wage is also a victory for the community, since the college is a large employer in Ithaca. Meyers said the Workers' Center gained momentum to help more workers in the community.
"This doesn't change the world, but it does in a small way," he said. "It shows people that people can stand up together and create changes. It's going to give hope to workers with some of the other things they're concerned about, that if they stand together with each other and we stand together as a community, that's what is going to bring about changes."
Sophomore Laura St. John, a member of LIPS and student worker in the Campus Center Dining Hall, said she first heard the news at work when a few Sodexo employees came up to her and thanked her for her involvement with LIPS.
"If you speak out, things do happen," St. John said. "That was a really empowering feeling — to see that we actually changed people's lives."
*Name was changed to protect anonymity.