After nearly a year of demonstrations from students and Ithaca residents, Ithaca College announced that Sodexo will raise hourly wages for dining hall employees at the college.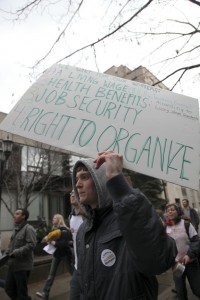 Starting Sept. 1, all Sodexo dining hall employees at the college will earn at least $11.11, which is the living wage in Tompkins County. Sodexo will increase wages for about 40 dining hall employees at the college who earn less than a living wage. The company has also agreed to raise wages for its other employees.
Senior Kiera Lewis, organizing coordinator for the Labor Initiative in Promoting Solidarity, said she is excited that the work from LIPS and other residents in Ithaca has promoted change.
"This is a huge victory on several levels," Lewis said. "It really shows that in Ithaca, focusing on the grassroots, focusing on connecting with community members and elected officials, and working together with the community can really bring about the most change."
Check back later for more updates on this story.