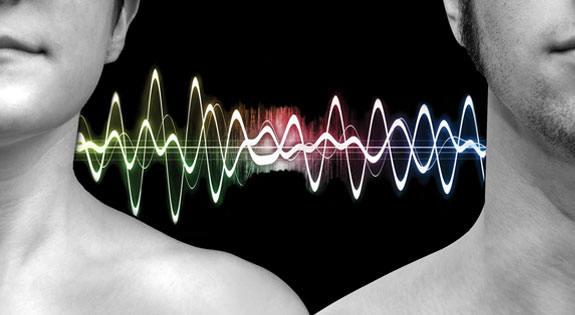 Will Shishmanian is looking to find his voice, and he is not alone.
Last spring, Shishmanian caught a glimpse of himself in a home video. The image was that of a little girl running around shirtless, asking to be called Brett. At that moment, Shishmanian said, everything clicked. An old familiar concept surfaced, and Shishmanian finally began to heavily question his true identity.
Over the next summer, he came to the realization that his female history did not match who he is.
"Female pronouns made me cringe, and I hated my name," he said.
Today, Shishmanian, a junior at Ithaca College, is fully out as a transgender individual and is one of many who feel the way they communicate does not reflect their identity. He is part of a pilot group of nine people who attended the new Voice Communication Modification Program for People in the Transgender Community, a program that began last Tuesday.
Transgender people do not want to stand out in society and attract negative
attention because their voices do not match their appearances, Shishmanian said.
"I want to make sure strangers, not just people who are supportive of me, will be like, 'Oh yeah, that's obviously a guy,'" Shishmanian said.
The program, a collaborative project between the Sir Alexander Ewing Speech and Hearing Clinic at the college, the Lesbian, Gay, Bisexual and Transgender Outreach and Services, and Planned Parenthood, aims to help that transition happen.
The first session included information about how to maintain the health of the organs involved in speech, Shishmanian said. The participants learned how to achieve the best results in voice modification. One recommendation was to drink about 64 ounces of water per day and another to avoid caffeinated beverages. He said there was also stress-relieving meditation in order to relax the body as well as the vocal chords.
This program is one of the few of its kind because it incorporates speech pathology students and transgender individuals. The program is mainly funded by donations, but non-student participants also pay a nominal fee for each session.
The focus of the new program is to help transgender people accomplish socially accepted communication techniques in a way that does not put their physical health at risk or require the use of hormones to alter the voice. Some transgender individuals try to alter their voices on their own or seek help from a voice teacher who is not familiar with correct transgender voice modification methods, LGBT program director Lis Maurer said. This may result in harmful effects such as nodules, polyps, or general pain or tension in the throat.
Joseph Zanfordino, a speech language pathology and audiology specialist and lecturer at the college, said speech pathology students are best suited for this specific kind of communication therapy.
"In the course of study, speech path students are trained in voice and voice therapy," he said.  "They are trained to be extremely effective listeners so that they can pick up the nuances of what a person's talking about. They are trained in the differences in terms of language. How a man and a woman communicate, pragmatics, body language, nonverbal communication, and in ways that people
present themselves."
Three graduate speech pathology students are running the clinic, which Zanfordino will supervise.
The process of communication modification therapy includes a wide range of practices, including oral hygiene, body language, vocabulary, changing pitch and inflection, emotional counseling, proper relaxation and others, Zanfordino said. Two years is a good benchmark to change communication patterns sufficiently, he said.
Zanfordino hopes the program will be a beneficial learning experience for both parties.
"For the students, I want them to take away a fundamental set of clinical skills that does not just include voice therapy, but also an appreciation for the journey a transgender person goes through — a healthy respect," he said. "And for the transgender individuals to get a sufficient amount of support to achieve their ultimate goal — passing in their true gender."
The project is the creation of Rebecca Baum '11, a speech pathologist in her clinical fellowship year with Lifespan Physical Therapy, Occupational Therapy and Speech and Language Pathology Services of Upstate New York. At the American Speech-Language-Hearing Association convention, Baum viewed a presentation about transgender speech pathology therapy. It struck her as something that needed to be brought to Ithaca, she said.
"I was thinking about how important it is for me to make sure that, since speech path is a helping profession, we extend," Baum said. "We extend to do everything that we can do to help as many people as possible, like transgender individuals."
The program was first discussed about a year ago when Mary Pitti, the current clinical program director in the Department of Speech Language Pathology and Audiology, accepted her new position as director. Pitti had no prior experience with transgender communication therapy, but said she was open to the idea.
"The way they learn in all of the areas of speech pathology is a combination of looking at the literature as well as jumping right in and learning as they do it," Pitti said.
Maurer said transgender people in the community are actively seeking services in
voice modification.
"I get calls regularly, not frequently, but regularly from people on campus and off looking for this service," Maurer said.
The ability to pass freely, successfully and safely through society is crucial to transgender people, and altering their voice and communication patterns is one important tool to achieving this, Maurer said.
"It's about assisting each individual, literally, to find their voice," Maurer said. "Whether it be a male person that had a female history or a female person that had a male history, as a young person they were socialized to have certain communication traits that are not particularity coded as the gender that they are now."
Shishmanian, who is a music composition major, said he turned to the program so he can receive professional communication therapy.
"I'm not doing hormones because of the way it would affect my voice," Shishmanian said, "I can't because I sing. I'm so nervous about what I could do to my voice. Any time you're not speaking in a normal register, it's a concern."
Shishmanian said the importance of communication modification is twofold. He wants to protect his voice as a singer, but he also wants to be able to communicate with the audience as they would expect a man to, he said.
Maurer said not standing out in the crowd for being transgender is something transgender people generally want to achieve.
"It's about them having tools to feel more validated in who they are and also about how others perceive them," Maurer said.
Zanfordino said he expects the program will thrive and draw in new participants every semester.
"The need in our society is very great," Zanfordino said. "This population is underserved. This program is going to continue for many, many years to come."