Diversity speaker Maura Cullen spoke to the class of 2014 yesterday in Emerson Suites, offering advice on topics like peer pressure, gender inequality, cultural differences and suicide — all while eliciting laughs and periodically coaxing the crowd to do the wave.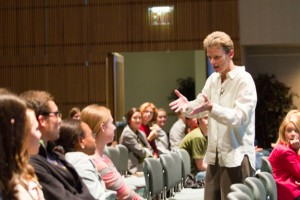 Cullen speaks annually at the college as the first-year diversity speaker and gave two presentations last night to accommodate audiences of about 300 attendees each.
Her presentation focused on how to avoid the alienating power of judgment based on characteristics like size, color, class, gender, cultural location, ability and sexual orientation. Cullen drew an analogy between a customer's selection of a car to purchase and an individual's judgment of others.
Cullen said avoiding these judgments can be as easy as challenging your assumptions.
"For some folks, it might be asking [someone] out on a date or talking to someone that is different than them," Cullen said.
Cullen said the class of 2014's generation is strongest in its technical communication skills but must improve on its personal interaction skills in order to succeed in the work force.
"Class of 2014, you need to start school with the end in mind," Cullen said.
Freshman Amanda Frey said she plans on taking Cullen's advice.
"I learned a lot," Frey said. "I am going to try and smile at everyone who I pass by — just to help brighten peoples' lives."
Throughout the lecture Cullen interacted with the crowd with a call-and-response style. She walked up and down the aisles while she spoke and brought audience members onstage to assist her in her presentation.
Cullen persuaded the audience members to stray from their comfort zones, like when she instructed them to give their neighbor a back rub.
Sarah Schupp, the first year program coordinator for the Office of Student Engagement and Multicultural Affairs, said Cullen's ability to convey in her message comes from her presentation style.
"I think she has a style that connects with students and staff members," Schupp said. "One minute you could be laughing [and] the other you could be crying. She just has a good way of presenting information that otherwise might be an awkward subject for some people."
Cullen said she hopes her message inspires students to break out of their comfort zones.
"I would love for the class of 2014 to dare to do things that scare them," Cullen said. "That is what life is about."