Owners of Ithaca's State Diner have announced that the diner will reopen in May, following a fire that destroyed the 77-year-old diner on West Martin Luther King Jr. Street in October.
Bia Stavropoulos, one of the owners, said the family is hoping to have the diner open by around the first week of May.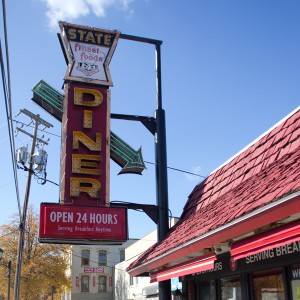 The diner closed down after a fire Oct. 2 that was caused by an electrical malfunction, according to the Ithaca Fire Department. The State Diner, which has been a 24-hour destination for students and locals, was originally opened in 1936 by Mike Rich and began as a trailer-car diner. It was later sold to businessman Dino Papadopoulos. In 1981, it was sold to the Stavropoulos family.
The 24-hour diner has been a popular destination for students and locals for more than seven decades. The white counter tops, black stools and red booths have become an iconic image of the diner. Reasonably priced food choices, including bagels, sandwiches and eggs, are also one of its popular attractions.
 Sophomore Mary Kielar first visited the diner during her freshman year. She said the diner reminded her of her home in Rochester.
 "My neighborhood is full of a few generations of a Greek family who happens to own a restaurant just like the State Diner," she said. "I felt a very homey vibe when I stepped into the diner."
 She said many people had asked her about the diner's progress since the fire.
"Everywhere I went, I saw people telling me, 'When are you going to open up? We are waiting,'" she said.
 Senior Caitlin Ghegan had been a frequent customer at the diner since 2011. She said she first visited the State Diner at midnight after a bad day.
"Every time I went in there, I felt extremely welcome," she said. "I felt like I was a part of something really Ithaca."
Construction work began about a month and a half after the fire. Stavropoulos said the construction work is almost complete.
Stavropoulos also said the diner will not look very different when it reopens next month. She said the food will also stay the same.
 Junior JP Keenan said he was devastated when he heard the diner had been hit by a fire.
 "I can't wait to go down again and get a bacon, egg and cheese bagel with a milkshake at 2 in the morning and to feel like it's Ithaca again," he said.