For the next five weeks, The Ithacan will feature graduating seniors who have made significant contributions to the college and community.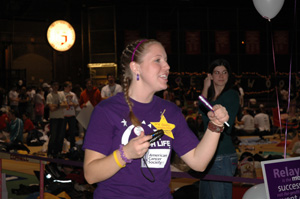 Community service and helping others run in Laura Teeter's family. Her mother is a nurse, her father is a retired firefighter and Laura studies physical therapy, a profession she sees as a chance to help people.
"Everything that I learned growing up was helping other people, and I knew my job would be helping other people because that's how I was raised," she said.
Teeter, a senior physical therapy major, has dedicated much of her time at Ithaca College to volunteering — most visibly as the college's chair for the Ithaca Relay for Life. Since she became involved with the event three years ago, it has raised more than $500,000 for the American Cancer Society.
This year's relay had 2,500 student participants from the college and Cornell University. Teeter said as of the event's closing ceremony Sunday morning, donations totaled $203,000, with more donations expected throughout the week, she said.
Barbara Belyea, professor of physical therapy, first met Teeter during orientation. She taught two of Teeter's clinical classes in the School of Health Sciences and Human Performance during Teeter's junior year and now directs her independent study, which focuses on preventing ligament injury in women.
"She's an outstanding student, she's a leader among her peers," Belyea said. "She always goes that extra step. She's that kind of student you can turn to when I need a tour guide when students are coming."
Junior Margaux Dubuar, who worked alongside Teeter as a secretary for the Center for Student Leadership and Involvement, said she had benefited from working with Teeter.
"She's been a mentor for me, and helped me develop my leadership skills and taught me how to appreciate everything and everyone … and how to have a positive influence on others," she said.
During her sophomore year, Teeter received the William Scoones Award for community service, which recognizes individuals whose service influences their community.
"When you come across that rare student who excels in the classroom but also contributes so much to the community, both college and Ithaca, it is very personally heartwarming that you've had a role in the development of a person you know will contribute, both professionally and in community service," Belyea said.
In addition to her classes in physical therapy and her work for Relay for Life, Teeter volunteered at the Special Olympics, performing physical fitness assessments and helping the athletes train.
"It was nice to be able to get out in the community and show what Ithaca College students know, to show what we learned in all our classes," she said.
Senior Melissa Whited, who took nutrition classes with Teeter and worked with her on independent study, said she was impressed by Teeter's commitment to her activities.
"She blows my mind, just the fact that she can do all these things and do it really well and really professionally," she said. "She makes everyone want to try harder and have a good attitude while doing it."
After graduating in May, Teeter said she plans to pursue a doctorate in physical therapy at the college's Rochester campus. She said she hopes to use future internships to determine which area she wishes to specialize in.
"At this point, I love every aspect of physical therapy," Teeter said.
Even with so many accomplishments, Teeter still finds a way to be modest. She credits the college for giving her the opportunity to succeed.
"The physical therapy department is so amazing here," she said. "It's hard to be anything other than exceptional."