Matt Yaeger crouched in a tree, waiting to make his grand entrance.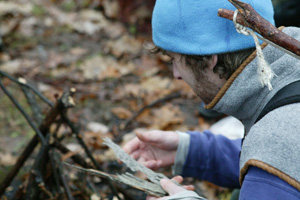 The children below, participating in the after-school program Primitive Pursuits, had no idea the senior was there until instructors told them someone was watching them.
Dropping to the ground, Yaeger shocked the group of elementary and middle school children.
"Surprising them in a good way really set the stage for me to establish certain connections with the children we worked with," he said.
Last semester, Yaeger partnered with the local organization Primitive Pursuits to do fieldwork for his outdoor adventure leadership
major. During his experience, he learned techniques like starting a fire with no matches and building an overnight shelter from only the resources provided by Mother Nature. He also learned how to teach children skills and guide them through activities.
"You need to take on another persona when working with the younger group because if you're this boring adult, they won't be interested in you," Yaeger said. "You have to figure out how to best reach them, and to do that is to let the passion within you shine."
Since 1998, Primitive Pursuits has been serving as an after-school education and mentoring program. It gives participants a chance to study the environment by learning nature awareness and primitive living skills, allowing children to experience a boost in self-confidence and create a stronger connection to nature. Primitive
Pursuits serves more than 300 youths in eight area middle schools, as well as hosting programs for the sustainability community EcoVillage and home school participants in Ithaca.
Founder Dave Hall said his idea for the program evolved out of his own interest in primitive survival.
"They teach you how to be self-sustaining and how to take care of yourself with basically nothing," he said. "It's a really empowering feeling."
Fieldwork is required for the outdoor adventure leadership major, and in Ithaca, not many organizations exist that offer fieldwork opportunities for students, Yaeger said. Originally from the area, he was already aware of the program. Primitive Pursuits allowed Yaeger to have an experience that was beneficial to both his training and the program.
The outdoor adventure leadership major became a major at the college in Fall 2004. It teaches students to develop skills in order to help people understand, value and enjoy nature. The program focuses on outdoor program administration, team building, problem solving, adventure leadership and natural resource management.
Because he enjoys nature, Yaeger chose this major so he would be able to work outdoors as a park ranger or lead kayaking trips.
"I'm attracted to nature because I'll get to live in a really beautiful, serene place if I want to," he said. "That's probably one of the overwhelming reasons I am in this major."
While working with Primitive Pursuits, Yaeger teamed up with two of the facilitators, Tim Drake and Jed Jorden, and accompanied them on their outdoor adventures.
"Activities are adjusted to get the result we are looking for, which depends on the group," Drake said. "We are constantly leading them down that path of self-exploration."
On these excursions, Yaeger got first-hand experience learning how to identify plants, which trees are good for starting a fire and what plants are edible.
"You can see that passion flow out of the instructors and the kids pick up on that excitement," Yaeger said. "I tried to mimic what Jed and Tim would do in terms of channeling that same excitement for nature awareness."
Yaeger had many fond experiences with Primitive Pursuits, but he said one event is especially memorable. He was helping the children gather sticks and brush to build a fire on a rainy day. Yaeger was excited when he found an abundance of dry vine, only to be told he had just picked up a bunch of poison ivy. Though he escaped infection, Yaeger's awareness of his surroundings increased, he said.
"I definitely realized at that point I still had a lot to learn in surviving outside and keeping myself out of harm's way," he said.
While doing his fieldwork, Yaeger said he was just as much a participant as the children. However, he did have the opportunity to work with children and help them become more engaged in the activities.
"If you care about humanity and the well-being of other people, it is really rewarding to put yourself in the mentoring role," Yaeger said.