For sophomore Elizabeth Stoltz, getting involved in the Ithaca College community started with a Plumpy'nut.
During her sophomore year in high school, Stoltz said she came across an article about the effects of malnutrition on children in Africa while flipping through an issue of CosmoGirl magazine. She said once she heard about Plumpy'nut, she was inspired to use the peanut-based food packed with protein and essential nutrients to help curb malnutrition rates in Africa.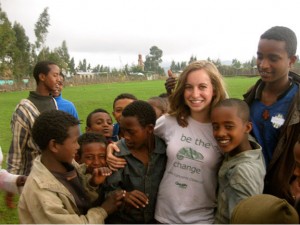 Plumpy'nut is packed in foil and requires no preparation. It has a shelf life of two years and a caloric count of about 500 calories per serving. It costs about $35 to sustain a child under 5 years old for a month.
In March 2008, Stoltz started Food for Thought, Inc., a nonprofit organization in her hometown of York, Pa., which has raised $15,000 to date. The organization coordinated yearly Walks for Plumpy'nut and a Trick o' Treat for UNICEF, among other events.
In May, Stoltz launched the student organization IC Food for Thought to continue her work with Plumpy'nut.
Stoltz said the club's main goal is to help children around the world who are affected by inadequate nutrition, lack of education and poverty. She said community support is essential to the group's success.
"Without having friends, family and supporters who recognize the amazing possibilities for Plumpy'nut and ending malnutrition, Food for Thought would've never even come into existence," Stoltz said.
Stoltz has been joined by fellow board members and sophomores Conor Harrington, Colleen Wormsley, Brittany Kenyon and Lilly Miller, a blogger for The Ithacan, all of whom have been involved with IC Food for Thought since its founding in May.
Wormsley, director of communications, said she believes Food for Thought can significantly improve the lives of malnourished children.
"There are children all around the world suffering from malnutrition and lack of education, and it's so empowering to know that we, as students of IC, can be a force for change," Wormsley said.
Food for Thought held its first meeting of the year at 8 p.m. Sept. 7 in the Buttermilk Falls Room. The get-together had a turnout of about 25 new and returning members.
The club's next event will be a Walk for Plumpy'nut, held at 11 a.m. Oct. 9 at Cass Park in Ithaca. The money raised will purchase Plumpy'nut for feeding stations in Ethiopia, run by Concern Worldwide, a nongovernmental, international and humanitarian organization dedicated to reducing suffering and eliminating extreme poverty in the world's poorest nations.
Stoltz said she hopes this year's walk will be as successful as the walks she organized in high school.
"The first walk for Plumpy'nut was extremely successful," Stoltz said. "The community response was absolutely fantastic, and it was great having friends and family participate as well. We ended up raising [more than] $5,000."
Stoltz said all of the club's proceeds go directly to Concern Worldwide.
This year, Food for Thought plans to hold new events, including a "Hunger Banquet" — a night where participants will be grouped into different classes and must eat like the class to which they are assigned. Stoltz said, for example, if they receive the No. 3, they are given a small bowl of rice and a glass of dirty water, just like people in Third World countries eat every day.
The group plans to host a booth Oct. 1-3 at the Downtown Ithaca Apple Harvest Festival to register walkers for their Oct. 9 Walk for Plumpy'nut and spread the word about Food for Thought.
In May, Food for Thought held a meal sign-away for female education in Malawi, during which students could opt to give up a meal to fund a Malawian woman's education.
Annette Levine, the club's adviser, said she decided to take a backseat role in the organization's planning stages because of Stoltz's experience and the board's enthusiasm.
"The students seemed very capable and needed very little from me," Levine said. "They know that I'm always there if they need support."
Stoltz said she has reaped the rewards of pursuing a passion for helping others.
"I knew Plumpy'nut was capable of saving lives, but I never realized how much it would change mine," Stoltz said.
The club meets at 7 p.m. Mondays in Friends 203. For more information, visit the organization's website at icfoodforthought.webs.com.