In the spirit of the upcoming Cortaca Jug, the American Red Cross is using rivalry to motivate students and faculty from Ithaca College and SUNY-Cortland to donate blood.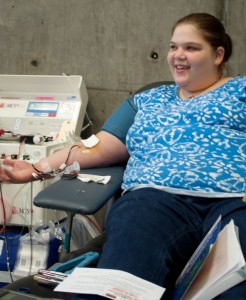 The Red Cross is increasing its efforts to collect blood this fall as New York state has been hit with an overabundance of rain and flooding. More than 170 drives have been canceled due to roads being closed, which prevented the Red Cross from reaching blood drive locations.
The annual Cortaca Blood Drive is a competition between the two colleges to see which student body can donate more units of blood. Last year, the college beat out Cortland by donating 307 units of blood versus Cortland's contribution of about 56 units.
Cynthia Smith, president of the blood drive committee, said this year's goal for the college was to get 350 people in the door to donate, but the ultimate challenge for the drive was 400 people.
"We would need 200 people to come through the door both days so we could hit around 400 units," Smith said.
On Tuesday the drive had 208 donors attend, and at 2:30 p.m. yesterday 195 donors had already come in with an hour and a half left on the clock.
The Ithaca College American Red Cross Club did not disclose how many units of blood were collected to avoid tipping off Cortland, which will host its blood drive later this month.
Freshman Chance Russell gave blood for the seventh time in his life Tuesday. He said donating blood is a way for people to give back. He plans to give blood again the next time the drive comes through.
"You know you're really doing good for someone," Russell said. "It's nice to just get in here as often as I can to help somebody else out."
Sophomore Bill Collins, who was waiting in the queue to donate, said he also enjoys donating blood.
"I've donated a few times, and it's a good thing to do," Collins said. "If you have something to give, you should give it."
Smith, whose life was saved as an infant by donated blood, said she applauds students for their efforts.
"Without the students, this wouldn't be possible," she said. "It is the kids that are here that deserve all the credit."