Park 51, a proposed Muslim community center in Lower Manhattan, has sparked a national debate, with many political actors taking sides. Now the controversy is coming to Ithaca College in the form of organized educational discourse.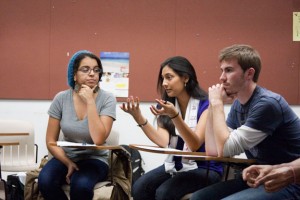 The 16-floor complex, which has a proposed location a few blocks away from ground zero, includes a sports, fitness and swimming center, a child care and playground center, an exhibition space, an auditorium, a restaurant and a prayer space. Some protestors have objected to the construction of the complex being near the former World Trade Center site. Many also believe the community center is a mosque.
Campus groups have hosted events recently to promote discussion in the college community about the center to teach facts and start dialogue about controversies surrounding the center.
The Diversity Peer Educator Program in the Office of Student Engagement and Multicultural Affairs held an open discussion forum Sept. 28 in Williams 221.
Senior Kevin Fish, Student Government Association president and peer educator, said the Muslim community center was chosen as the topic of the forum because of its relevance in the nation and on campus.
"We want to start an educational dialogue between students about this topic that has been presented in The Ithacan as well as the news so everyone knows about it," he said. "There haven't been too many outlets for students to engage in peaceful yet educational discourse on this matter."
The IC Progressive Discourse Project, a new campus organization, also presented a panel about Park 51 on Sept. 24 in IC Square. The panel included students, two visitors from the British National Debate Team and Jason Freitag, associate professor of history.
Senior Edward Wycliff, co-founder of the project, said the British National Debate Team from the University of  Oxford and the University of Cambridge  gave the discussion a new perspective.
"It's something that most students don't get to hear in person and actually interact, ask them any question that you really want," he said. "I think that people really enjoyed that."
Edina Lekovic, director of policy and programming for the Muslim Public Affairs Council, an advocacy organization for the American Muslim community, said public discourse about Park 51 is an important topic for college students to discuss.
"Students on our college campuses around the country are the ones going to be entering the 'real world' very soon, and having conversations around these issues is crucial because what happens in New York [City] is bigger than New York [City]," she said.
In the Sept. 28 open forum, several perspectives on the issue were discussed. Students talked about the media's negative representation of the Muslim center, the intolerance of Muslims in the United States and the proposed location of Park 51 itself.
There was a consensus about the lack of details about the project and that Americans need more time and information to form their own opinions about the center.
Freshman Alanna Smith said she attended the open forum because she wanted to learn about a controversy she doesn't discuss in her classes.
"I knew nothing about the mosque, and I was just planning on coming and sitting here," she said. "It felt like an exercise to really dive into intellectual thinking."
Senior Zena Patel, another peer educator, said she hopes more discussions can happen in the future.
"If and when a topic like this arises, we feel like students would benefit from having other students bring people together to talk about an issue in an open area where you can express your opinion," Patel said.