A strong interest in multiple degrees has more students at Ithaca College declaring double majors despite time constraints and  increased workload.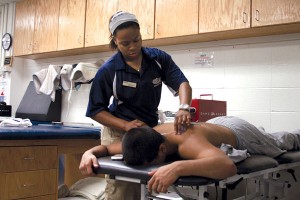 Only 3.6 percent of students at the college are enrolled in multiple majors. However, there has been a 23 percent increase in students deciding to double major in the last four years, from 174 students in the fall of 2007 to 225 students this semester.
These numbers still place the college behind the national average. A study by the Department of Education showed 12 percent of college students enrolled in a bachelor's degree program in 2003 graduated with a double major by 2009. In the case of four-year nonprofit colleges and universities, the average is 16 percent.
For junior Ben Shipley, the decision to enroll as a drama and writing double major came from a passion for theater and a talent for writing.
"I just really love to do them all," he said. "I always knew I was going to be a theater major in college, that was never a question, but I got all these scholarships for writing and thought 'Great! I'll do that!'"
A typical day for Shipley involves an 8 a.m. alarm call and after a three-and-a-half hour block of classes, Shipley works for three hours in the library or IC Square to keep up with his coursework.
From there, he walks to Dillingham Center to work as a dramaturg or stage manager for a production, which can take up to five hours.
Shipley said he only takes on this much work because he couldn't imagine not double majoring.
"If I wasn't so passionate, I wouldn't be able to do this," Shipley said. "No one in their right mind would put this much on themselves if they didn't love it."
But for many students, the challenges of being a double major and the demands of co-curricular activities become hard to manage.
Chanel Cohen, an athletic training and physical therapy double major, does not run varsity track anymore, and instead plays club volleyball because of the demands of her two programs.
Sophomore Emma McFarland, a drama and English double major, said because she is working as a dramaturg for "The Magic Flute" next semester, she had to drop her co-curricular activities to accommodate a busier schedule.
"Last year I did IC Players, but this year I'm taking 18 credits, so I didn't really have a lot of free time," McFarland said.
However, dropping these co-curricular activities and focusing exclusively on class work can have a detrimental effect on a student's employment prospects when they push aside internship experience some employers look for.
Billie Streufert, director of academic success at the University of Sioux Falls, wrote an article for USA Today in July about the impact a double major can have on one's career and said students need to take employment opportunities and time constraints into account before declaring a second major.
"I would say to any student that you are going to leave any institution with two things: a degree and a resume," Streufert said.  "You want to make sure you have a foot in both worlds. Couple your strong academic background with hands-on practical experience."
Streufert cited a 2010 survey of employers by the National Association of Colleges and Employers, which found that 72.4 percent of employers preferred candidates with experience, and employers viewed internships and leadership positions on campus as being as important as a student's major.
Students that can balance two majors as well as internships and co-curricular involvement can make a student a much more standout job applicant.
Lauren DeCicca '11, said she came to the college because of the opportunity to enroll as a photography and art double major. Before she got her latest internship at Life Magazine, DeCicca worked as a photographer for Fuse magazine, a Leadership Scholar, a disc jockey for WICB, and as a photo editor and cartoonist for The Ithacan.
"I took a double major because I couldn't imagine not being both a photo major and an art major," she said. "People interviewing me seemed impressed when they heard that I could handle all of that on top of my extracurricular activities.
For others, having a double major is less about increasing employment prospects and more about the natural curiosity in multiple subjects.
"This is college, and while it is time to find a path in life, it is also a time to explore oneself and follow the passions you won't necessarily get to later," Shipley said.