A decrease in the size of the Ithaca College Sustainably Conscious Living community this year seems to indicate a lack of interest in the once-popular living community.
Ronald Trunzo, associate director of residential life, said the SCLC, currently located in Terrace 02, once housed as many as 62 students, but since 2009, this number has steadily decreased. Currently there are 16 students living in the dorm, and this number is not expected to change next year.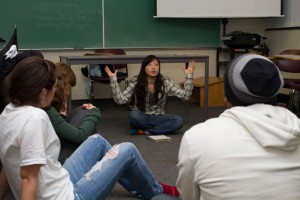 The SCLC, which was established in 2006, is the college's only sustainable living community on campus.
Marian Brown, special assistant to the provost and vice president of academic affairs, said the amount of interest in living in the SCLC determines how much space is allotted.
"They respond to student interest," she said. "At one point the interest was so strong, it was the whole building."
Brown said she is not sure what caused the decrease in interest.
The goal of the community is to provide housing where students share similar lifestyles and learn about the sustainability movement.
The SCLC features low-flow shower heads and sink faucets, five-minute shower timers, automatic occupancy lights and composting.
Brennan McKenna, the SCLC resident assistant, said the purpose of the community is to foster environmentally friendly behaviors.
"It's a place where like-minded individuals can come and learn about sustainability and everything that encompasses sustainability," he said.
Although the SCLC is officially the only sustainable living community on campus, McKenna said in the end it is just like all the other residence halls.
"It's more about behavior and trying to encourage each other to not use our lights as much and eat things that have less of an environmental impact." McKenna said.
To be a resident in the SCLC, students apply through HomerConnect. If selected, they must attend three academic programs, complete two outreach hours and attend community dinners and meetings.
McKenna said the SCLC prioritizes community outreach on campus through different projects such as minimizing wasted food and cleaning up natural lands owned by college.
McKenna said he believes it is important for individual students to strive to be sustainable, no matter which residence hall they live in.
Margaret Keating, co-president of the Ithaca College Environmental Society, said she thinks the college should expand the composting effort of SCLC to all the residence halls.
"A lot of people have suggested having access to composting in the dorms," she said. "That's another big, campus-wide thing that campus facilities just doesn't think is feasible."
Brown said she wishes students would keep in mind that they can also be sustainable in other residence halls.
"It's no accident that three of the Quads — Clark, Hood and Talcott — are Energy Star buildings," Brown said. "Because that is the most sustainable option you can choose, the traditional residence hall."