The Republic of the Marshall Islands, a group of 29 coral attols halfway between Hawaii and Australia in the Pacific Ocean, has been a member of the United Nations since 1991. Though Ambassador Alfred Capelle has represented the Islands since 2002, four Ithaca College students have the opportunity to take his position this week at the National Model United Nations conference in New York City.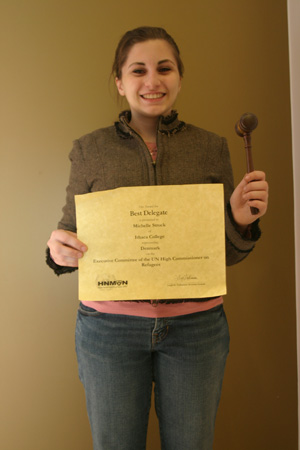 "We're a small group and the Islands are a small nation," said sophomore Model UN delegate Mena Ziabari. "It kind of fit our group in that way. … We're just kind of going to push our way to the front to make ourselves noticed."
The conference, held from Tuesday to Sunday in New York City, annually attracts nearly 3,500 student delegates who represent more than 25 international countries for six days of mock international debate.
This is the first year the college's Model UN team is participating in the NYC conference. Ziabari, a politics major, said each school is allowed to send 46 delegates to this week's conference, but the college can only afford to send four.
Ziabari, sophomores Paige Davis and Jonathan Hershenson, and freshman Lindsey Humphreys were selected from the college's 20 Model UN members to attend the conference.
During each conference, the students form different political committees, discuss specific international issues and problems, and write resolutions to solve them, Ziabari said.
Marty Brownstein, assistant professor of politics and Model UN adviser, said team members are selected at the beginning of each school year and represent each academic school on campus. The group meets every Tuesday and Thursday and several Sundays leading up to a conference.
Brownstein said the college's chapter began in 1983 when it first attended the annual Harvard conference. The group added the University of Pennsylvania conference in 1996.
"This week's exploration might signal our further expansion," Brownstein said.
The group attends two yearly conferences at Harvard and the University of Pennsylvania. All 20 team members attended the Harvard conference from Feb. 15 to 18 and represented Denmark.
Brownstein said the team wins awards regularly at each conference and always returns feeling "highly accomplished and
highly satisfied."
Senior Michelle Strucke, a sociology major and first-year Model UN member, earned Harvard's Best Delegate Award for her work on a human rights committee. She said team members are judged on their professionalism, appearance of diplomacy and the way in which they portray their country's positions.
"It's a pretty intense experience," Strucke said. "From the moment you get there, we start going immediately from conferences and meetings and things."
Strucke said Model UN has taught her to act more diplomatic and respectful of others' opinions in many situations in her life.
"In a classroom a lot of times, it's easy just to argue an opinion and not remember that you have to listen to other people's concerns," she said.
Ziabari said the main goal this week is to learn more about the NYC conference process and gain political knowledge that could be useful in the team's future. She said though it is the group's first year, members are optimistic about their success as ambassadors of the Republic of the Marshall Islands.
"I really think none of us has any doubt that we can dominate," she said. "I'm really honored to be a part of it. It's one of those once-in-a-lifetime type of deals."