A sustainable sewage system, wireless Internet access and a trading room with double the floor space than the one in Smiddy Hall were some of the features of the new School of Business previewed in a presentation last Tuesday in Williams Hall.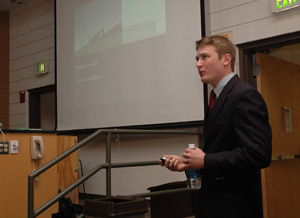 The presentation was given by four students who are part of the Business Sustainability Ambassadors, an organization of business students established in February. Members have toured the building and worked with the contractors to present its plans to the Ithaca College community.
Sophomore Steve Keller said a goal for the building is to earn a Platinum certification from Leadership in Energy and Environmental Design (LEED) Green Building Rating System, developed by the U.S. Green Building Council. Platinum is the highest of four certifications that LEED awards based on a detailed scorecard system, which includes categories like waste management, automated indoor environmental controls and site selection.
The building is expected to earn points for its vegetative roof, layered with 6 inches of dirt and 8 to 12 inches of grass. Keller said points will also be earned for a storm water sewage system that recycles rainwater through the building to flush toilets.
Sophomore Brooks Lape said the building is expected to receive at least 52 points, the minimum for a Platinum certification.
"We can't get every single point," he said. "But going for Platinum — we're going for the majority of them."
The new trading room, located on the first floor, will still include the NASDAQ stock ticker the college has now, but the room will be double the size. There will also be a conference room and a mock boardroom, encompassed on three sides by glass windows, for students to meet and give presentations.
There will be two rooms, called breakout rooms, for six and 12 students to use as collaborative work areas. Each room will contain conference tables and either a projector or plasma screen and sound system.
Serving as less formal meeting areas are the school's atriums. The lower atrium will be the entry point of the walkway between Job and Friends halls that opens to campus. Lape said the upper atrium will extend almost the full length of the building.
The atriums contribute to the openness of the building's design to increase airflow, sophomore Isaac Hattem said. A wall made of double panels of glass will provide 90 percent of the structure with natural light. These features will decrease energy costs, according to the presentation.
Sophomore Sherry Deuyour said the building's spaciousness will also create a friendlier atmosphere.
"It will make a great learning environment [and allow] for everyone to get to know each other," she said.
The third and fourth floors will mainly consist of faculty offices, except for the conference room and a public shower, to promote alternative transportation, Deuyour said.
"If you're riding your bike to work or to school and you're all sweaty, you can take a shower," she said.
Lape said the building will also have lockers for business students.
"It will be great because it will allow students to go from wearing sweat pants in class to dressing professionally for an interview," he said.
Pat Libby, associate professor of accounting and co-adviser of Business Sustainability Ambassadors, said the closer the building gets to its Spring 2009 finish date, the more excitement she sees from students and faculty.
"By communicating to others [what we've learned about the building], we start to see how the students will be a resource for that," she said.