After a long struggle to create an Asian-American Studies program at Ithaca College, the proposal was put on hold, inciting backlash from proponents of the course of study who are determined to continue pushing for it.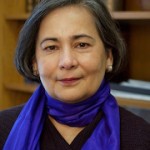 Juniors Kristy Zhen and Kristiana Reyes and senior
Kaitlin Hibbs are student leaders advocating for the approval of an Asian-American Studies minor.
Zhen said the current ALANA curriculum is not complete without the proposed minor, so they put in a program request through the Center for the Study of Culture, Race and Ethnicity.
"Right now they have an African Disapora study, a Latino American study, they have a Native American study," she said. "The only one that's missing is an Asian study."
Last fall, the three students conducted interviews with students and faculty and found there was interest for the program. They filmed a documentary, which has since been shown twice to raise more awareness for the cause, and they found 413 students and faculty to sign an electronic petition in support of the creation of the minor.
Asma Barlas, professor and program director of CSCRE, said the movement has been around for 10 years since the CSCRE was created.
Barlas said the problem is not a lack of student interest in the program, but a lack of faculty to teach a full course load.
Marisa Kelly, provost and vice president of academic affairs, said the Asian-American Studies program was not declined, but "put on hold temporarily" to bolster other initiatives, like the college's new center in China, that might complement the program.
"The program in general is a great idea, it will be a great addition to the curriculum, a great opportunity for students on campus, I just want to make sure that we develop it in a way that makes sense given some other initiatives on campus."
Barlas said the new center in China is the perfect reason to create the minor.
"It is our responsibility to teach the students here first so that they can benefit from their experience overseas," she said. "They're not just going to go there as tourists."
All three students said they shared Barlas' disappointment, but no one is giving up on the program. Reyes said they are thinking about making a committee to ensure there is a continued effort.
Hibbs, Zhen and Reyes will show their documentary once again and hold a discussion about what steps should be taken at 6 p.m. today in Textor Hall.
Barlas said she backs the students and their cause fully.
"I have been on this campus for 20 years and never have I seen a petition signed by 400 students and faculty on behalf of a program," she said. "That's historical."