Senior Nykaulys Cruz has done only unpaid internships during her college career. In Summer 2009, Cruz spent her days logging tapes at the MTV Networks Tape Library and writing for online fashion magazine, Vain Style, in New York City.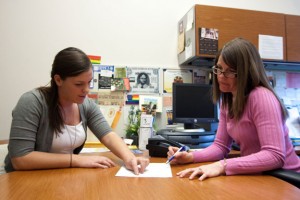 Originally from San Juan, Puerto Rico, Cruz said she stayed with her aunt in Manhattan.
"I was living off of what my mom gave me, sort of like a stipend," Cruz said.
Three-quarters of America's 10 million four-year college students will work as interns at least once before graduating, according to the College Employment Research Institute. The research firm Intern Bridge found between one third and half of those students will be unpaid.
While unpaid internships can offer valuable experience and contacts for students, they also risk excluding students who cannot afford to forgo wages during the summer. Bethany Kilgore, professional development coordinator for the Ithaca College School of Business, said students must have at least one, if not two internships, to be competitive in securing a full-time job after graduation.
"I highlight this for first-year students during orientation in the summer stating it's imperative that they get an internship while in college," she said. "That being said though, I always advise students who have a relevant unpaid internship to couple it with a paid opportunity so [they have] the chance to make money over break."
Junior Kayla Inanc, an integrated marketing communications major, spent her summer editing Excel spreadsheets at Wainscot Media, a full-service communications company, which specializes in publishing print, digital and mobile content. Inanc said because her position was unpaid for 20 hours per week, she had to take on a paid job to earn some income, which meant interning from 9 a.m. to 4 p.m. and working from 4:30 p.m. to 9 p.m.
Junior Jennifer O'Leary, a business administration major, was able to obtain a paid internship at Partners HealthCare System, a nonprofit integrated health care system, last summer in Boston. O'Leary, who worked 40 hours per week making $16 an hour, said she would not have been able to do an unpaid internship during the summer.
"I can't afford to be working for nothing in the summer," she said.
Companies can offer unpaid internships when they resemble educational training programs and follow the Fair Labor Standards Act guidelines laid out by the U.S. Department of Labor.
Ross Perlin, author of "Intern Nation: How to Earn Nothing and Learn Little in the Brave New Economy," said there has been an internship boom over the past 40 years, and the recent economic recession has only exacerbated this trend.
"I've documented a lot of instances where paid internships are becoming unpaid as companies try to save money," he said.
Walker Harman, an employment lawyer at Harman Firm, P.C. in New York City, has worked on a few cases regarding violations of the Labor Standards Act, which requires the payment of minimum wage to nonexempt employees.
With the downturn of the economy, Harman said, people were looking back on internship experiences and determining they were entitled to wages, but many are afraid to come forward.
"Many people use internships as a platform to get jobs," Harman said. "[Students] don't want to sue and hurt their career by requesting what they otherwise would be entitled to."
In April 2010, officials in states such as Oregon, California, and New York began fining employers and ordering investigations into several firms' internship programs for violating the Labor Standards Act. At the time, the Department of Labor said it was going to crack down on firms that failed to pay interns properly.
If the opportunity is unpaid, Kilgore said she reminds employers the internship must follow federal labor standards. Many employers require academic credit, which Kilgore said is not up to the employer to decide.
"It's up to the students and the college to dictate whether students receive credit," she said. "We have to make sure the majority of their work relates to their major and that it's not just administrative work."
Kilgore said it is better for the students and the employer to provide at least a small pay.
"It's a better opportunity for our students to have a paid opportunity," she said. "[The employer will] get better quality work and the students will be more into doing the work."
Though academic credit can be suitable, Perlin said, it does not guarantee the employer is following labor standards.
"There are some instances where academic credit is appropriate, [such as] when there's real educational experience," he said. "This idea that people have — that it's either paid or for academic credit — is a misleading one."