A Congressional investigation into Planned Parenthood Federation of America's use of federal funds was the central issue to a rally Saturday, renewing an ongoing battle between sexual health promoters and those morally opposed to abortion and birth control.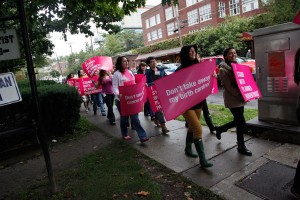 Students from Ithaca College and 11 other institutions marched downtown after a conference organized by the Family Planning Advocates, a Planned Parenthood-funded organization.
Congressman Cliff Stearns, R-Fl., chairman of the sub-committee on oversight and investigations, requested that Planned Parenthood furnish internal and state-level financial audits from 1998 to 2010. He also wanted proof that Planned Parenthood is keeping federal money from funding abortions and of its procedures for complying with reporting laws for child victims of sexual assault and abuse.
Stearns sent a letter to the group's president requesting documents and information regarding the organization's use of federal dollars, since they receive about $1 million a day in taxpayer funds.
"Although Planned Parenthood is barred from using federal funds to perform abortions, these funds are fungible and allow the group to use funds from other sources ostensibly for abortions," Stearns said in a statement.
The Hyde amendment, a 1976 law, bars the federal government from using tax money to fund abortions except in cases of rape, incest or when a woman's life is in danger.
The investigation follows a report by Americans United For Life, a pro-life think tank, which included allegations that federal money was used for abortions. It also included examples of fraud and Planned Parenthood's failure to report that a child was raped before performing an abortion.
Casey Martinson, director of public affairs for Planned Parenthood of the Southern Finger lakes, said Saturday's rally was held in opposition of the investigation and proposed federal budgets that attempted to strip funding from the organization. He said the rally was meant to raise awareness that Planned Parenthood is essential to community health.
Marissa Speno, president of VOX: Voices of Planned Parenthood, a group at the college, said Stearns and other Republican politicians who seek to stop funding for Planned Parenthood are undermining men's and women's reproductive rights by cutting an institution that provides more than just abortions.
"If they were just anti-abortion, they would be against abortion, yes, but they would also be for comprehensive sex education [and] accessible and affordable contraception, and they aren't," she said. "So what we're seeing is that if you're not having sex to procreate, then you shouldn't be having sex at all. Obviously procreation isn't the only reason we have sex."
Shea Hasenauer, recruitment officer for Cornell Coalition for Life, a pro-life group, said the investigation is long overdue, citing Abby Johnson, an ex-Planned parenthood employee who has spoken out against the federation since 2009.
"None of this is even new, it's all stuff that's been shown before over the months and through the years," he said. "It definitely warrants a formal investigation."
Stearns and AUL cited evidence to debunk Planned Parenthood, such as videos recorded by a hidden camera of Planned Parenthood workers helping underage girls get abortions, including one of a man posing as a pimp who secured abortions for actors posing as underage prostitutes.
Speno said the videos show only a few isolated incidents, and the people involved were fired. She said Stearns is trying to make Planned Parenthood seem like a shady institution, and that VOX is attempting to combat that agenda.
"Even by just suggesting that Planned Parenthood is doing something illegal, it's going to put the idea in people's heads that maybe they are — that Planned Parenthood isn't a legitimate health care resource and organization," she said. "One of the things that we're doing is just bringing it to people's attention and just getting people talking about it so these things just don't go unsaid."
She said support for Planned Parenthood is widespread and allegations are unfounded.
"People forget that there's only a very small minority of people who unfortunately scream louder than everyone else and they're heard more than everyone else," she said.
Martinson said the organization will not change their services because of the investigation.
"Despite these attacks, we're going to continue to provide the essential services and education that we've been providing for over 40 years — that's what we do," Martinson said.