Thousands of students, including 31 from Ithaca College, will rally on the steps of Capitol Hill next week to demand positive action for climate control at the Power Shift 2007 conference.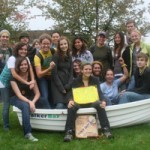 The youth summit, sponsored by the Energy Action Coalition, will be held from Nov. 2 to 5 at the University of Maryland College Park campus. An estimated 5,000 students from all 50 states and Canada are expected to attend.
Junior Sarah Brylinsky, a double major in communication management and design (CMD) and environmental studies, said she plans to attend the conference to make a difference.
"It's going to be the movement of our generation," she said.
Brianna Cayo Cotter, communications director for the Energy Action Coalition, said she believes climate control and clean energy are key issues for today's youth.
"The excitement of the movement of young people fighting climate change grows bigger literally every day," she said.
Presidential candidates are expected to attend the conference Friday evening to talk with students about their platforms regarding climate control, and students will have the opportunity to lobby their elected representatives Monday, Cayo Cotter said.
"The youth are a constituency that politicians can [no longer] ignore," she said.
During the event there will be a variety of speakers discussing different topics regarding climate control. Brylinsky said she hopes these will help affect the political climate surrounding global warming.
"I'm hoping this event will generate a political awareness that as a youth movement, we can make a political difference if we speak up at events important to us," she said.
Students attending the event will also participate in interactive workshops, including non-violent direct action training, ideas for creative protests and how to lobby the senate, Cayo Cotter said.
Senior Gabrielle White is helping to organize the event and is working to inform students about the conference through posters and campus displays. She said she is excited about taking a stance on global warming, something she has always wanted to do.
"It's about finding out where do I fit with my knowledge [about climate control] and where can I go to from here," she said.
Junior Rita Kerr-Vanderslice, who is also helping to organize the college's involvement, said she is working on finding ways to offset the costs for students, through sponsorships and collaborations with Cornell University.
Kerr-Vanderslice said the environmental science, politics, sociology and philosophy departments will sponsor the trip.
She said she is excited about the connection she will be making with students outside of the college while at Power Shift.
"This is the time in our lives when we, first of all, have a lot of time on our hands, and second of all, are young and we're smart," she said. "If we get motivated, then we're going to go on and really make a difference."
Brylinsky relates this generation's focus on global warming to her parents' anti-war
protests and her grandparents' fights for civil rights.
"The global climate change movement is our generation's movement," she said. "It's really our responsibility to step it up and take control of the situation."