When students from Ithaca College and Cornell University return to Ithaca for the fall, the local population doubles from about 30,000 to about 60,000. From the two schools, just over 14,000 students live off campus, constituting about a third of the population of the City of Ithaca during the academic year.
However, the amount of off-campus housing available for these students is not sufficient to meet demand and is causing a severe housing problem for the city.
A study by the Danter Company, a private real estate research and consulting company, found the City of Ithaca can currently support 6 percent of Ithaca College students and 8 percent of Cornell University students living off campus in purpose-built student housing, which would amount to less than 2,200 students. The study defines purpose-built student housing as properties that are privately developed and rented by the bedroom with individual leases made specifically with students in mind.
JoAnn Cornish, director of planning and economic development for the City of Ithaca, said the lack of student housing is causing a "crisis" that is affecting the whole city.
"We know we have a serious housing shortage and our demand is much greater than our supply," Cornish said.
The study projects the city will be able to accommodate 20 percent of Ithaca College students and 25 percent of Cornell University students in the next 10 years. Comparably, the data showed most Northern colleges tend to house 20–35 percent of their off-campus students in purpose-built student housing.
Megan McDonald, senior planner of Tompkins County Planning Development, said it is likely Ithaca will take action on this assessment.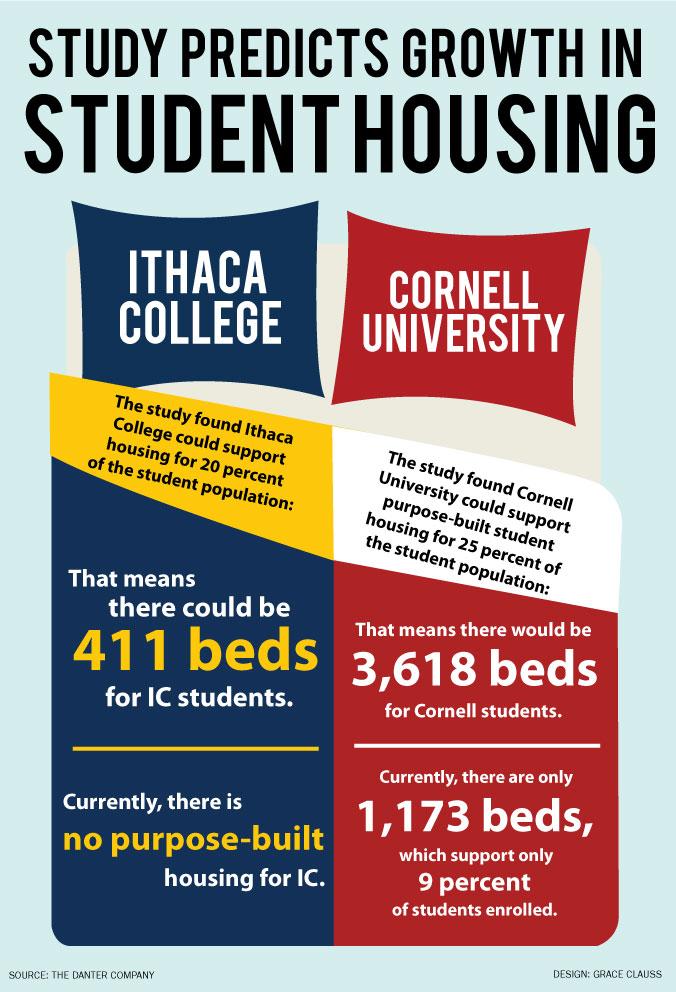 "There is certainly potential. … I think it will happen given the demand that is out there and the large quantity of students we have in the area," McDonald said.
McDonald said she and others are still waiting on some final documents from the Danter Company. Once these are obtained, a summary of findings will be put together for the public. She said she wants to talk with the community about what the goals will be and what strategies will be set in place to address the housing assessment.
Michael Zaransky, Co-CEO of Prime Property Investors, a specialized real estate investment company, said the national student housing market is very strong at the moment, which would allow for this development. He said this is because enrollment in colleges and universities is up nationally.
"I have seen an increase on most campuses of students wanting to live off campus but in close proximity to the university on pretty much every campus," Zaransky said.
Other reasons Zaransky said students are choosing to live off campus is because students prefer the independence and because off-campus housing usually costs less than living on campus.
Zaransky also said having a lower-than-average student-to-bed ratio — the proportion of students who can be accommodated — allows off-campus landlords the opportunity to hike up rent prices. In 2014, The New York Times ranked Ithaca as one of the top 20 least affordable cities for rental prices. It took spot number 11, just behind New York City.
"A student to bed ratio that is below the national average of a third means that the conditions are very favorable for off-campus landlords because there's lots of demand without competition from the university for housing," Zaransky said.
Plans were in the works since April 2015 to develop student housing on State Street. However, the developer, Campus Advantage, backed out in January 2016.
Cornish said Campus Advantage canceled the deal because of community opposition. She said the community had concerns about bringing students to the downtown area.
"There is support for student housing existing in the appropriate location, but downtown, people got nervous about it," Cornish said.  
This does not mean the community had opposition against building new housing, Cornish said, but that many thought Collegetown would be a better place to house students due to concerns that they might affect the downtown atmosphere.
"Many people envision, and have experienced, the student lifestyle, especially undergraduates, as loud, obnoxious, partying all the time, trash strewn lawns … and generally just bad neighbors with little to no respect for the greater neighborhood and community," Cornish said in an email.
However, much of the planning board did not share the same concern. Cornish said she and others on the planning and development board were excited to bring students downtown.
"They would be spending money and feeding the economy of downtown and making it a more vibrant place, which is what we always want," said Cornish.
Zaransky also said bringing students to an area is "generally favorable" to both the community and economy. By being closer to shops and restaurants downtown, they could potentially bring more revenue in.
McDonald said purpose-built student housing is typically built by private developers, so the question of when more housing will be built depends on if any developers are interested. As for where these new developments would go, McDonald said, typically it is wise to develop in already urbanized locations. She said this winds up being more energy-efficient, and it provides easy transportation access.
Students at the college who have gone through the process of trying to find off-campus housing have seen this crisis firsthand. Senior Alejandro Wothe went through the housing search process at the end of his sophomore year. By then, he said, many of his friends had already looked at houses and signed leases in the fall. Wothe found a house only by chance after renters backed out of deal for a house he decided to claim.
Linda Koenig, assistant director for Housing Services and Communities, said in an email that students can find information about off–campus housing on the college's website. There, students can find information about how to find a place to live off campus. The website gives suggestions about where to look for housing, how to sign a lease and more.