Democrat Svante Myrick has been elected the City of Ithaca's next mayor.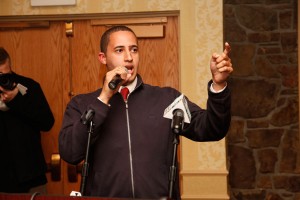 Myrick collected 54 percent of the vote, according to data posted by the Tompkins County Board of Elections. Independent Wade Wykstra finished second with 25 percent of the vote. Independence Party candidate J.R. Claiborne finished third with 13 percent, and Republican Janis Kelly brought in seven percent.
According to unofficial data released by the Tompkins County Board of Elections, 3,443 city residents among the city's 10,407 active, registered voters cast a ballot in the mayoral election.
Myrick, a 2009 graduate of Cornell University and alderman of Ithaca's 4th Ward, will assume office Jan. 1. Myrick will replace Mayor Carolyn Peterson, a Democrat who has held the position since her election in 2003. Myrick, 24, will become the youngest mayor ever in the City of Ithaca.
In an interview with The Ithacan, Myrick thanked his campaign staff, supporters and voters for their passion and commitment to his mayoral campaign. He said his first order of business in office will be organizing the five new members of the city's Common Council so that the legislators can get to work addressing the city's problems.
"I hope to bring my energy, my commitment and dedication to service," Myrick said. "Hopefully we can bring down the cost of living, we can improve the way our city performs and improve the way we communicate."
Irene Stein, chair of the Tompkins County Democratic Committee, said Myrick's election culminated a great night for local Democrats and his agenda will likely transform into a good mayoral administration for the City of Ithaca.
"Though he was a young person, he showed you can't generalize about young people — that some young people are equipped and able," Stein said. "And he convinced people that he was equipped and able."
Joseph Murtagh, a Myrick supporter who was elected as an alderman to the Common Council's 2nd Ward, said Myrick's administration should help expand the city's tax rate and increase housing options for local residents.
"It's definitely a change of direction for the city," Murtagh said. "It's been eight years of a certain style of leadership. It's been good leadership, but I think some of the issues that were talked about tonight and in the mayoral campaign really have to do with a direction for development."
Rob Flaherty, communications director for the Myrick campaign, said the election victory culminates six months of a difficult yet rewarding campaign.
"It's incredible," Flaherty said. "I'm going to Disneyland."
Check back later for more updates.