Ithaca College will present the 10th annual James J. Whalen Academic Symposium on Tuesday, an event that showcases the research of 200 students from the college's six schools.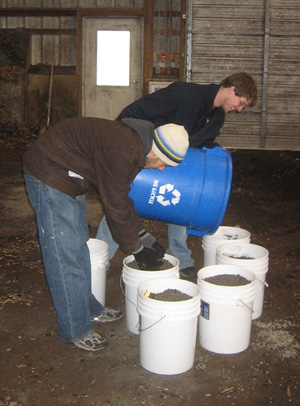 David Garcia, associate provost, said the symposium, which takes place throughout the day in the Campus Center and Emerson Suites, is an opportunity for students to share their research with the college and other members of the community.
"[As a student] you take a class and you do research projects for those classes, which are then graded," he said. "But somehow it seems worth more than that. That it ought to be celebrated, and to be seen by more people."
The first academic symposium was held in 1997 to celebrate the 22-year presidency of James J. Whalen and his strong belief in undergraduate research. In 1998, around 80 students participated in the event. Tuesday's symposium includes 200 students and more than 150 presentations.
Each project has a faculty sponsor who guides the student through the process, and eventually acts as a moderator during the presentation. Susanne Morgan, associate professor of sociology, is sponsoring student presentations for the symposium.
"It's very valuable for our students to prepare and present their work in front of such an audience," she said. "I also think that it's important for the campus to see the work of the sociology department, or any department for that matter. Such work needs to be visible because students do excellent research."
Garcia said the community will find the work of the students intellectually stimulating and will be amazed at what they learn.
"I know it's that busy time of the year, but this is really worth it," he said. "People will be pleasantly surprised."
The following projects will be featured Tuesday and represent a variety of disciplines on campus:
Project name: "Greening IC's Roofs: A Pilot Project for CNS"
Department: Environmental Studies and Science
Presenter: Junior Dan Carrión
Faculty Sponsor: Susan Swensen, associate professor of biology
Summary: Carrión said his presentation will explain new options for green roofing, the process of planting on rooftops.
"Hopefully [the presentation] will gain some interest into my studies by expanding public knowledge about green roofs, their benefits and IC's potential to actually pursue planting a green roof," he said.
Project name: "Mapping Music"
Department: Mathematics
Presenter: Senior Jillian Cavanna
Faculty Sponsor: John Maceli, associate professor of mathematics
Summary: Cavanna said the project was part of the Applied Mathematics course that she took in the fall.
"I investigated how to create a mathematically significant graph of musical relationships," she said. "The idea of graphing music was fascinating considering … it would provide a visual connection to the sounds we hear."
Project name: "Educational Inequities in Korea"
Department: MLK Jr. Scholar Program; Junior seminar: Human Rights and Migration in Korean Context
Presenter: Junior Maria Gonzalez
Faculty Sponsor: Charles Venator Santiago, assistant professor of politics
Summary: Gonzalez's project focuses on the College Scholastic Ability Test, a mandatory standardized test in a South Korea.
"The importance that is placed on preparing for the CSAT is tremendous," she said. "A great amount of supplementary aid is required to achieve competitive results. Realistically though, not everyone can afford the costs of this necessary additional aid. The discrepancy amongst student's abilities to equally prepare for such a life-altering test brings to light the inequity that exists in the college entrance system."
Project name: "'Is that true?' College Students' Prior Training in Media Literacy and Internet Credibility"
Presenter: Junior Russell Michaud
Faculty Sponsor: Cynthia Scheibe, associate professor of psychology
Summary: Michaud said his presentation tackles the issue of students' experience with media literacy and Internet credibility.
"Less than half of the participants surveyed received any formal training in media literacy and Internet credibility, and of those who did, even fewer responded with answers that will allow them to effectively judge the media that is out there,"` he said. "I hope that the audience gets a feel for the relative lack of formal media literacy education in our schools."
Project Name: "S.O.S. via SMS: Text Messaging as a Communication Strategy in Hurricane Crisis"
Department: Sports Management and Media, and Strategic Communication
Presenters: Sophomores A.J. Mizes and Eddie Lemonier; senior Basak Ozler; junior Kellie Hoverter; and the rest of the Crisis Management class
Faculty Sponsor: Cory Young, assistant professor of strategic communication
Summary: Mizes said the project focuses on communication during Hurricane Katrina, specifically using text messaging.
"[We conducted] interviews with individuals responsible for crisis communication, and crisis practitioners are [now] using our ideas," he said.
Project name: "Parents, Pedagogy, or Personal?: Where One's Value of Education Originates"
Department: Sociology and Higher Education
Presenter: Junior Mallory Moyer
Faculty Sponsor: Susanne Morgan, associate professor of sociology
Summary: Moyer said her project looks to discover the drive behind the value of education in society.
"Increasing the value placed upon education by addressing the primary reinforcer will help produce better academic performance," she said.
Visit www.theithacan.org/go/whalen to see a schedule of presentations.