A pending federal law could slash the high taxes on small liquor distilleries, which would bring relief to the growing number of microdistilleries and vineyards in the Finger Lakes region.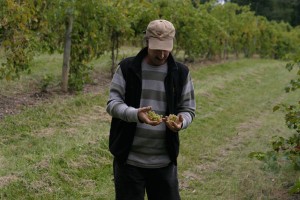 The law, which was introduced by Congressman Maurice Hinchey, D-N.Y., whose district includes Ithaca, would allow small distilleries to write off 80 percent of the tax — currently $13.50 per gallon — easing one of the legal obstacles faced by distillery owners.
Bill Owens, president of the American Distilling Institute, said microdistilleries have popped up all over the country as liquor laws changed over the last decade to allow distillers to produce and sell their product at the same site.
ADI projects more than 400 small distilleries will be in the U.S. and Canada by 2015.
Owens said the demand for small distillery spirits is growing, and more liquor producers are trying to attract collectors and tourists. Distillers from wineries in Ithaca want to expand their businesses, but must still appeal to a niche market because they charge premium prices for wine and spirits.
In the Finger Lakes region, four wineries distill spirits. Six Mile Creek Vineyard, one of the local wineries, added distilled spirits to its business in 2007 and currently distills vodka, gin, grappa, orangecello, limoncella and wine.
Paul King, distiller and wholesaler for Six Mile Creek, said a surplus crop of grapes resulted in a high profit for the vineyard because it could sell more wine than usual. The vineyard used the extra money to buy a still, a device for distilling spirits.
"Anytime you can bring a layer consistent with your business, you should, because it brings appeal to another part of the population," he said.
Though the business is profitable, strict laws — like having to report the monthly operations to the state — and heavy taxes on distilleries have made producing spirits difficult for King.
Bill Martin, owner of the Montezuma Winery and Hidden Marsh Distillery in Seneca Falls, said the distillery had to lobby in Albany to change the liquor law to allow them to produce and sell spirits on site. He said there is still cumbersome paperwork and taxes each month that need to be filed to maintain the license.
"In order for us to compete with the big boys that have all the equipment and all the ability to produce more spirits cheaper than us, the taxes have got to be lowered," he said