Tea party groups have emerged across the country and are poised to make a serious impact in the upcoming midterm political elections — even in New York state and Tompkins County.
On Sept. 14, Buffalo businessman Carl Paladino defeated former Rep. Rick Lazio, who was supported by the state Republican Party, in the New York Republican primary.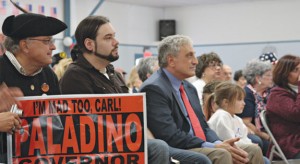 Riding on a national wave of resentment of what some tea party supporters regard as fiscal irresponsibility in government, Paladino will face Democratic candidate Andrew Cuomo in a state where the last Republican gubernatorial candidate was defeated 70 to 29 percent.
On Saturday, Paladino was the headline speaker at the Patriot Rally, a local tea party event in Watkins Glen, N.Y., where he delivered his message of anger and frustration.
"[Albany politicians] keep changing the rules," Paladino said. "They keep playing with our money and our lives. We are sick and tired of it, and we want something different."
Hosted by the Odessa Tea Party, a local tea party group near Ithaca in Odessa, N.Y., the event allowed Paladino to rally 400 Republican and conservative voters.
"I don't need your money, I don't need the power and I definitely don't need a pat on the back," Paladino said. "I'm just a regular New York guy, and I'm mad."
Don Beachler, associate professor of politics at Ithaca College, said the tea party movement, originally an acronym for Taxed Enough Already, began as an outcry against the 2008 financial bailout, 2009 economic stimulus and 2010 health care reform.
The top policy concerns of the conservative movement focus on improving the economy and creating jobs, reducing national spending, cutting taxes to encourage job growth and repealing health care reform legislation, according to The Winston Group, a political polling and strategy organization.
A Gallup poll conducted in March found that 28 percent of adults in the United States identified themselves as supporters of the tea party movement, and support levels among different age groups were consistent. Additionally, the poll found that most supporters of the tea party earn $50,000 or more annually.
Beachler, who hosted an open forum on the tea party movement Tuesday, said the political movement successfully tapped into voter frustration, with tea party-endorsed candidates winning successful primary challenges against candidates previously backed by the Republican Party.
Most notably, Sen. Lisa Murkowski, R-Ala., was defeated 51 to 49 percent by attorney Joe Miller. Miller was endorsed by the Tea Party Express, an organization that endorses and raises money for tea party movement candidates. In Delaware, Rep. Mike Castle, the former governor of the state, lost to tea party-supported Republican Christine O'Donnell by 53 to 47 percent of the vote.
Nationally, the two most prominent tea party organizations are the Tea Party Express and the Tea Party Patriots, which serves in a more organizational manner, according to their respective websites.
Bill Card, a member of the Odessa Tea Party and the event's organizer, said he coordinated Saturday's rally to provide tea party groups across Central and Western New York and the Southern Tier a forum to rally supporters.
"We organized the rally to establish good communication amongst the different tea party groups in the area," Card said. "There are a lot of tea party groups in New York state and in the area, but most of them do not know each other exist."
Beachler said tea party candidates have been successful in rallying voters behind rhetorical messages of anger and frustration, yet they provide little substantive policy information.
"Tea party people are extremely motivated because they believe there has been a takeover in American government," Beachler said. "They believe it is a takeover in various directions and many contradictory directions."
Locally, Kathy Kheel, coordinator of 912 TEA of Cortland/Tompkins County, a local tea party group in Ithaca, said recent administrations have pushed the federal government beyond their constitutional limits.
"[Our group] is for a more constitutionally limited government like our founding fathers intended," Kheel said."
Jenny Stepp Breen, a lecturer of politics at the college who specializes in American politics, said outside conservative advocacy groups have played a role in defining the overall tea party movement, which lacks the necessary logistical and financial structure to operate on its own.
"You have to question the term 'social movement' or 'grassroots movement,' because [the tea party movement] definitely appears to be run from the top down," Breen said.
Robert Bluey '00, director of the Center for Media and Public Policy at the Heritage Foundation in Washington, D.C., said the prominent conservative advocacy group, like others, aids the political movement as an ally, dispersing financial and other resources.
"One of the biggest ways the Heritage Foundation works with tea party groups is through our coalitions department," Bluey said. "We do outreach to the type of people who are interested in conservative policies that we work on."
Senior Brandon Kurtz, president of the Ithaca College Republicans, said young Republican voters, who may or may not fully align with tea party policies, are engaged and energized.
"It has definitely gotten down to the young Republicans who are politically driven," Kurtz said. "Students are fired up, and not just in the tea party way, but also in an anti-incumbent, anti-business-as-usual way."
In a conference call with student journalists last week, President Barack Obama said young voters couldn't ignore the upcoming midterm elections because of political consequences.
"You can't suddenly just check in once every 10 years or so on an exciting presidential election and then not pay attention during big midterm elections," Obama said.
Sophomore Lindsay Harrop, who attended Beachler's discussion, said the movement presents a paradoxical issue where voters receive conflicting information from the media.
"The danger of the tea party comes because they are portrayed mostly through the media," Harrop said. "Because there is no cohesive or unified message, every group works on its own autonomous agenda under this tea party umbrella."
With support from the tea party movement, Paladino said he is ready to continue full force with his campaign.
"I am going to take out a despicable government," Paladino said. "I am going to take out all the bad guys and I am going to take out all the trash."