In a year of the largest voter turnout, The Constructionists defeated rival party Untold Narrative in the 2011 Student Government Association elections by a margin of 57.6 percent to 38 percent.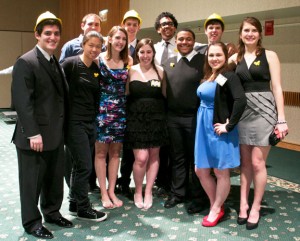 The Constructionists, comprised of senior Scott Nachlis, president; junior Eve Trojanov, vice president of academics; sophomore Rob Flaherty, vice president of communications; freshman Rob Hohn, vice president of business and finance; and sophomore Rachel Heiss, vice president of campus affairs, won with a platform based on spirit, accountability and collaboration, all for the greater purpose of improving campus community.
The party also heavily advocates the use of timelines and setting deadlines for projects to assure students and faculty they will follow through on campaign promises.
Senior Julia Dunn, current SGA vice president of communications, said she was impressed by student interest in the election.
"In all, we had more than 1,000 votes, which is totally unprecedented," she said. "At one point we even got 100 votes in the space of half an hour. It was insane to watch the numbers grow so fast."
Dunn said the turnout of the election, around 17.6 percent of campus population, was similar to that of Fall 2010, when around 16 percent of the student body voted but said she wishes more students would participate in campus elections.
"It stinks that less than 20 percent of the student body is voting on this," she said. "On the other hand, we tried a lot of new things this year, and I was really impressed with everything we were doing."
One of the new tactics Dunn mentioned was the decision of SGA to include votes from seniors and graduate students, opening a demographic that had previously been excluded from the election process.
Nachlis said his motivation to form the Constructionist Party stemmed from his prior experience with SGA and his desire to change campus life for the better.
"When I entered student government my sophomore year, I saw how much influence the organization has on campus and how much it serves as a voice for the student body," he said. "My philosophy has always been that if I want something to be changed or done, why shouldn't it be me that does it?"
Nachlis said he wants to pass a proposal that would institute a shuttle bus system on campus, an idea that has existed for some time within SGA but has not yet been passed.
"We need to see tangible results on this issue," he said. "A shuttle bus system would reduce parking problems, be more sustainable than having lots of cars on campus and would promote safer driving conditions."
Nachlis said another proposal includes the selling of more school spirit apparel, and the use of money from the sales to benefit students on campus in need of financial support.
"Our program is all about students helping other students and empowering each other to be the best we can be," he said.
Current SGA president Kevin Fish said he is confident in the ability of the incoming board members.
"Either party would have been an excellent choice, but the incoming group has a lot of experience with student government and knows the ins and outs pretty well," he said. "That experience should make the transition easier for them and enable them to enact change in a very profound way."