For junior Brittan Binder, coming to Ithaca College meant making a conscious decision to value experience over cost when it came to her education.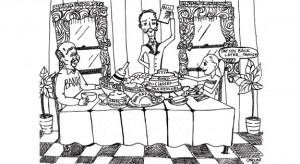 Binder said she could have attended Rutgers University in New Jersey, a short distance from her house, where she would have graduated free of student loan debt. Instead, Binder decided to attend Ithaca College, where she has accrued about $40,000 in debt that she will carry with her after graduation.
The decision was a no-brainer for her. She said she placed far more importance on a quality education than on its high cost.
"I knew the academics here were really good," she said. "I knew that it was in a beautiful area, and I knew that I'd be paying far less than the stamp on the ticket."
Binder spoke at Labor Initiative in Promoting Solidarity's event, Occupy the Mic, on Tuesday. About 50 people attended the speak-out, where a group of students and faculty spoke candidly about their personal experiences with student loan debt — some of whom had debts totaling nearly $80,000. A few students said they felt student debt should be forgiven altogether.
Though Binder had an optimistic outlook on her financial future despite her debt, some students are taking more proactive measures to ease their economic burden.
Since coming to the college, junior Rhiannon Youngbauer has made strides to decrease her debt by living off-campus and finding a job on the Commons, but it hasn't been enough. Youngbauer said she decided to lessen costs by graduating early.
"College is not just classes," she said. "It's an experience, and I feel like I am going to be missing out on some things to an extent."
By graduating early, Youngbauer said she has to sacrifice taking some classes. She is pleased the college has given her more financial aid each year, but now, she said, the issue is more of a political one.
"There's only so much the university can do," she said. "I'm kind of under the mindset that the state or the government should do more, because it's not all up to the university. It shouldn't be up to them."
Warren Schlesinger, associate professor and chair of the accounting department, said increasing the financial aid budget would mean charging wealthier families more to subsidize low-income students. But forgiving students of their loans could also prove problematic for the college.
"Those extremely wealthy families, that 1 percent, is just not large enough for Ithaca College alone to charge differential tuition amounts in that way and then forgive loans going forward," he said. "We would not have the resources to pay salaries, to maintain the buildings and run operations."
Robert Applebaum, founder of the website ForgiveStudentLoanDebt.com, said the problem with student loans is that there is no examination for whether students will be able to pay back their loans after graduating.
"Anyone with a pulse who wants to take out a student loan to go to school can get one," he said.
Of the 6,321 students enrolled at the college during the 2010-11 academic year, 4,347 were given need-based financial aid, according to the Common Data Set, an annual collection of information the college distributes publicly.
Students used a total $33,156,693 in outside loans, excluding parent loans, and $8,132,301 in federal grants and scholarships to help foot the bill.
In October, President Barack Obama announced a plan to reduce student loan burdens for students who already have federal loans, which will go into effect in 2012.
Beginning in 2014, new student borrowers will be able to decrease their monthly federal loan payments to 10 percent of their discretionary income, and current students can make the same cuts starting in 2012. All debt will be forgiven after 20 years rather than 25 years, as the current law states.
At the national level, college tuition and fees have increased 4.5 percent in private colleges and 7.9 percent in public universities. According to the College Board, these percentages are expected to increase by 6 percent annually, and by 2028, the cost for private colleges can go up from the current average of $119,400 to $340,800.
The national student debt currently stands at more than $600 billion — about five percent of the national debt average, exceeding credit card debt for the first time this year.
Students attending four-year institutions in New York graduate with an average debt of $26,271, the 10th highest debt in the nation, according to data from the Project on Student Debt and the Institute for College Access and Success. The project estimates about two-thirds of all 2010 college graduates had loan debt averaging $25,250, up 5 percent from 2009.
These statistics bring up the question of whether the benefits outweigh the drawbacks in pursuing a post-secondary education.
Youngbauer said she knew attending the college would put a financial strain on her family, but the campus atmosphere won her over.
"It seemed worth it to me because I knew I'd be getting one of the best communications educations in the country," Youngbauer said.
Applebaum said when it comes down to it, students simply don't realize they are making poor financial decisions.
"During their first two years, they don't know what they are majoring in so they just take the required course and party," he said. "If you want some soul-searching time and some time to discover what it is you want to do with your life after college, I think community college and in-state schools are a much better place to do that."
Zac Bissonnette, author of "Debt-Free U" and a University of Massachusetts Amherst alumnus who graduated debt free, said students are too young to make such large financial decisions.
"You are talking about people who are making these decisions when they are 16, 17 and 18 years old," he said. "17-year-olds are not allowed to drink alcohol or trade commodities or that kind of thing, but they are allowed to borrow $100 or $150,000 to go to college."
Though she does not have a solution to the problem she is speaking out against, Binder said she believes the first step toward addressing the issue of student loan debt is to lift the veil of ignorance.
"A large part of making steps toward solving the student debt crisis is acknowledging that it is an issue," she said. "This is a problem. This is a severe, severe problem."
Staff Writer Nicole Ogrysko and Assistant News Editors Erica Palumbo and Elma Gonzalez contributed to this report.