A two-car accident today on Danby Road near the main entrance to Ithaca College left one car totaled and the other with minimal damage, Jacob Opala, state trooper for the Ithaca Barracks, said. Traffic is being directed to the left lane of the southbound side of the road until the road is cleared.
Recovery service vehicles were on the scene to tow both vehicles and one of the vehicles was occupied by a student from the college. No injuries were reported, Opala said.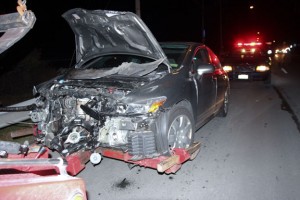 Junior Luke Wise, who was walking from Dillingham Center to his car across Danby Road, said he witnessed the accident. He said at about 5:35 p.m., a car driving on Danby Road collided with the other vehicle as it turned out of the college.
Wise identified the driver of the vehicle on Danby as an older man.
"The guy seemed out of it," he said. "He might have been in shock from the accident."
Opala said police are still conducting an investigation of the crash and assessing damage done to both vehicles.
Check back later for more updates