For Cornell Ph.D. student Barrett Keene, the inspiration to walk thousands of miles across the country came when he met a Haitian girl named Renice while visiting Haiti in June. Her story moved him.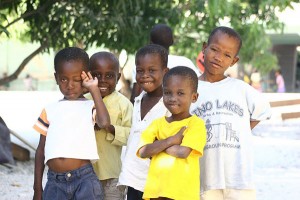 Fourteen-year-old Renice was once a house slave in Port-au-Prince. At 12 years old, she was raped, forced to leave her home and left pregnant. Months later, in the aftermath of the 2010 earthquake in Haiti, she was found in the rubble, about to give birth.
Renice and her baby were rescued and brought to the Global Orphan Project, a ministry that helps house and care for children in some of the poorest areas of the world.
After hearing about the organization's efforts, Keene was motivated to do his own part.
Starting Jan. 1, he will walk 3,488 miles from Miami to San Francisco to raise funds and awareness for The Global Orphan Project, which spans 15 countries and aids 1,200 orphans in Haiti alone.
He will also focus on promoting one of its initiatives called GO Threads, which consists of four sewing centers that make school uniforms to distribute to children from impoverished families who wouldn't be allowed to attend school without them.
Keene will raise the money reaching out to different groups of people he meets along the way in hopes of making corporate partners that will donate enough money to fund school uniforms. Keene's goal is to raise enough money to fund 25,000 uniforms, which cost about $20 each.
"These 25,000 uniforms will allow 25,000 children to have an education, and that's huge," he said.
The sewing centers also employ locals in Haiti and provide them with a living wage and good working conditions.
Keene said he became familiar with the organization when his best friend Jake Barreth became the director of operations for the project.
"Barrett has been looking for ways he can get involved in orphan care as well," Barreth said. "So it was kind of a natural progression."
After visiting Barreth in Haiti last June and meeting children like Renice, Keene said, he did not want to wait any longer to help.
Keene originally planned to walk across the country to promote the cause with a friend, but due to an injury, his friend will not be able to accompany him. There are only a handful of other people also participating, so Keene said he hopes to share his cause with others he might meet along the way.
"There might be only one or two people, and my only request is that I can share with them the work of the Global Orphan Project and GO Threads," he said. "And I want to hear about them. I want to hear what their story is."
Adrien Lewis, community director for The Global Orphan Project, said people involved in the project office were so inspired by Keene that the founders and administrators decided to walk with him on the first day in Miami.
"His passion and desire to do something like this goes back way before The Global Orphan Project," Lewis said. "This seed's been planted deep, and it is just now being executed, so we're excited for him."
Keene will not only be serving the project, but will also conduct large-scale research along the way as part of an assignment for his Cornell Ph.D program.
Keene said his experience taking initiative in GO Threads adds significance to his research, which deals with how middle and high school teachers can be more effective leaders in their classrooms.
His background goes far beyond his current research. Since he was 16, he has volunteered and taught leadership and character development to more than 290,000 people over the years, ranging from elementary school students to corporate leaders.
Barreth said his long time friend tends to take on challenges others may find daunting.
"Everyone that runs into Barrett is immediately inspired by him," Barreth said. "And as far as doing something as crazy as walking cross-country, I can't say that I'm terribly surprised by that."
But Keene said he does not think of himself as someone with the ability to motivate people, rather someone who understands something needs to be done and has the tools to fuel change.
"How can we just continue to go through our day when we can, in small ways, have such a big impact?" he said. "I don't even know how inspirational it is; it's just something that we need to do."
Keene said his dream of one day walking across the country began in high school, and he is excited to finally make his goal a reality.
"I love an adventure and a challenge that's just a little too big," he said, "It's both of those things."