The Ithaca Police Department has identified the names and conditions of those
involved in Sunday's traffic accident on Route 13 at the intersection of North Fulton Street and Cascadilla Street.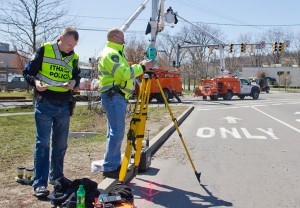 Ithaca resident Prince J. Griffith, 21, died due to injuries sustained from the crash; Fairburn, Ga., resident Dominique Slaughter-Smith, 20, died from injuries sustained in the crash; Ithaca resident Rakim D. Slaughter, 24, is in critical condition at the trauma center; and Isiah Mack, 19, was recently released from the hospital.
The traffic accident occurred at 3:54 a.m. Sunday, according to a press release sent out by the City of Ithaca.
The Ithaca Police Traffic Crash Reconstruction Team and Investigations Division are in the process of reconstructing and investigating the crash. At this time the investigation is ongoing, but it is known that speeding did play a part in the crash, according to an IPD press release.