Nearly 50 students presented ideas to raise awareness of recent acts of bias and increase the overall understanding of diversity Saturday at the African-Latino Society's first Unity Conference in Textor Hall.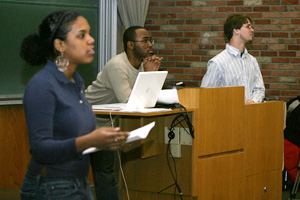 Terry Martinez, director of student engagement and multicultural affairs, said there have been 14 reported incidents of bias on campus this semester.
"When you have people on campus that think it's OK to do and say these things, that's not good," she said.
Among the incidents Martinez mentioned were numerous instances of racial and homophobic graffiti, including reports of swastikas drawn on various locations in Emerson Hall and racial graffiti in the men's bathroom in the Dillingham Center.
Martinez said the college should not ignore the incidents and the issues of campus bias they raise.
After discussing the incidents on campus and learning what distinguishes a hate crime from a bias-related incident, the students attempted to find ways to increase campus awareness.
Senior Zack Ford, president of the Student Government Association, encouraged the students to talk about inclusivity instead of diversity. Ford said that diversity excludes people because it talks about differences rather than similarities.
"We want a campus that is inclusive," he said.
Ford asked students to brainstorm ways to revamp the SGA Diversity Council. Ford said the Diversity Council had failed the students it was intended to serve because it never received enough attention from SGA.
Sophomore Cornell Woodson, the ALS Internal Affairs officer, said ALS now has to figure out how to turn student opinions into something concrete. He said he hoped ALS would gather enough student opinions from the conference to create a proposal to send to college administrators.
"Everyone had a chance to say what they've been thinking about," Woodson said. "We had a good 50 people in this room discussing, debating, thinking, and that's a huge, huge accomplishment."
Sophomore Tatiana Sy, ALS spokesperson, said she wanted the conference to be about the students.
"It's really easy for us leaders and organizations to take it and roll with it … and not necessarily consider that other students may have some ideas as well," she said.
Sy said the group wouldn't know how effective the conference was until another event is held that draws a large turnout of interested students.
But judging by the turnout of Saturday's conference, Sy thought that might be difficult.
"It's still so hard to get the people that really, really need to come, to come," Sy said.
Some of the ideas that students discussed in the conference were another "Erase the Hate" rally, weekly diversity workshops and a cultural fair.
Senior Andrew Hassell supported most of the ideas discussed, but said the most important was to focus on education.
"Without having the knowledge to talk, there's nothing to talk about," he said.
Though no concrete plans emerged, Ford said he thought the conference would contribute to progress in the future.
"It's frustrating because it's so slow to see," he said. "[But] the work we're able to do as a result from today will demonstrate … there is opportunity for progress to continue."