Junior attack Katie Hurley dashes through the 8-meter arc, dodging three defenders, and finds the back of the net for her second goal of the game April 16 against Alfred University — joining an elite group of Ithaca women's lacrosse players.
With the goal, Hurley became the 15th Bomber to reach the 100-goal milestone in her career.
Hurley's achievements in women's lacrosse include captain of her high school team and the third-highest single-season goal total in Bombers' history with 55 last season, but her initial experience with the sport was playing on a boy's team in fourth grade.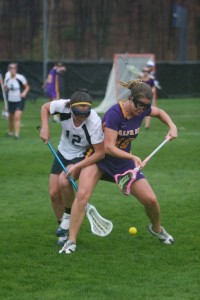 She said the boys on her childhood team sometimes complained about her, but that it only toughened her mentally.
"Whenever we lost a game the boys would say, 'We lost because we have a girl on our team,'" Hurley said. "I had thicker skin when I first started playing with the girls because I was used to getting yelled at by the boys."
Early in her career, Hurley drew inspiration from local collegiate players at Nazareth College and St. John Fisher College. Growing up, Hurley attended a women's lacrosse camp at Nazareth for six years through elementary school to help her adjust to the women's game. Hurley said the women's game, which is based on finesse, is less physical than the men's up-tempo playing style. The women's game also involves less equipment and playing with a shorter stick.
When Hurley was in eighth grade at Honeoye Falls-Lima High School in Honeoye Falls, N.Y., women's lacrosse Head Coach Kevin O'Connell moved her up to play on the high school varsity team. O'Connell believed Hurley's superior passing and catching skills, along with her scoring ability, qualified her to play on a team mainly composed of juniors and seniors.
Hurley said the early move to varsity allowed her to develop her athletic skills and adjust to the mental aspects of the game.
"I got to play with older and more skilled girls at a young age, and that picked up my game, made me more mentally tough and more of a skilled athlete overall," Hurley said. "The only way to get better is to play with better people, get skills from them and learn from their example."
O'Connell said Hurley's happy-go-lucky personality off the field and intensity on the field helped her quickly earn respect from her peers and teammates, who nominated her captain her senior year of high school.
"One of her greatest strengths was her passion for the game," O'Connell said. "When she walked into practice every day, she made everyone else happy and always had something nice to say, but once we stepped on the field she was as ferocious
as anybody."
Despite receiving offers from Division I schools, Hurley made a verbal commitment to Division III Union College before changing her mind at the last minute to come to Ithaca College. She said the academic and team environment at Ithaca fit her personality more.
"The girls I met at Ithaca were so much more down-to-earth," Hurley said. "The team atmosphere seemed so much more like a tight-knit family."
Hurley, a communication management and design major, has a couple of connections to home in senior midfielder Sarah Cox and freshman defender Hillary Cox. The three athletes are childhood friends and played together as Honeoye Falls-Lima Cougars.
"It's fun to talk about stories from high school and make fun of our old coach when he comes to our games," Hurley said.
While Sarah influenced Hurley's decision to come play for Ithaca, Hurley said she played a role in convincing Sarah's sister, Hillary, to play for the Blue and Gold. Hillary said that Hurley motivated her during offseason workouts and helped ease her transition into the program.
"Anytime I had a question about team atmosphere, team protocol or what to expect from the upcoming season, she was always more than willing to talk to me about it," Hillary said.
Conference road games provide opportunities for Hurley's friends and family to come to watch her play against nearby Empire 8 rivals such as Nazareth and Fisher. Hillary said Hurley's mother, Gina Hurley, even invited the team over for dinner between back-to-back games at Nazareth and the University of Rochester.
Both Sarah and Hillary provide a familial bond for Hurley, who finds it difficult to maintain a similar connection with her sister Emily Hurley, who is currently in West Africa volunteering in the Peace Corps. Emily is stationed in Mali running a cross-country camp for underprivileged children.
Hurley visited Africa last summer and hopes to eventually do volunteer work for Fields of Growth International, an organization that brings lacrosse to Third World countries in Africa. Hurley said her sister's experience has helped her put her own life into perspective.
"After you lose a tough lacrosse game, it's the worst feeling in the world," Hurley said. "But then I think about what I saw this summer and the real struggles people went through and I realized I have to have fun with everything and be grateful that I have the opportunity to go to college and play on a team."