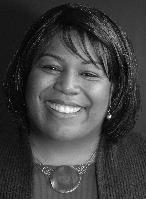 Vicki Allen '91, executive director of the Jeremiah Program, spends her time helping single mothers earn a degree to prevent generational poverty. The Jeremiah Program aims to empower single parents by educating them to help them get better jobs with higher wages to fight off poverty. Allen will speak at the African, Latino, Asian and Native American Achievement Awards Banquet at 6 p.m. Saturday in Emerson Suites. When Allen isn't working with the Jeremiah Program she works at St. Catherine's University as an associate professor of business administration.
Staff Writer Hayleigh Gowans spoke with Allen about her post-Ithaca College accomplishments and the speech she will give at the banquet.
Hayleigh Gowans: What have you been doing since graduating from Ithaca College?
Vickie Allen: I had a career in sales with several Fortune 500 companies. I've gotten my graduate degree from Harvard, I founded and run my own consulting company, and I've become a professor in an all-women's liberal arts college, and I also was the executive director of a national non-profit focused on two-generation poverty eradication. A lot.
HG: How did your experiences at the college help shape who you are today?
VA: First of all, I learned how to shape who I was and what I am at Ithaca. My values were created there. I learned some phenomenal leadership skills. I was an RA, I was a peer career counselor and I was in student justice. So throughout my time at Ithaca I was really presented with opportunities to grow personally and professionally, which I think really helped me in the next phase of my journey. Ithaca was a building block for me. I had grown up in poverty before Ithaca, and it really gave me not only the knowledge, but the confidence to feel like I was truly a contributor to the organizations that I worked for.
HG: What will you be talking about in your speech at the ALANA Awards Banquet?
VA: I really want to share the lessons I've learned along my journey, and also how important relationships that I'd built there had shaped my life. So really a combination between lessons learned and how the relationships that were forged while I was on campus. My best friend from freshman year, I still talk to her at least every other day. And that's a 23-year-long relationship, and we have grown together. We've supported each others career choices. She is my best friend for life. I met her freshman year 1987.
HG: How do you hope your speech will impact ALANA students?
VA: I'm hoping that through my journey that the ALANA students will be able to see possibilities for themselves. I also hope that through the service, that I've given to both IC and my community, which I've lived in, that they will also have an opportunity to see the power that service and philanthropic support can have in areas in which they reside.
HG: Do you feel being involved with the nonprofit sector is important?
VA: I do. I think that nonprofits serve the good of all. There's always ways to be involved in nonprofits without necessarily working for them. You can volunteer for them, you can help them raise money, and you can share your knowledge, gifts, talents. I am not an advocate of directing people's careers because I believe that we all have a calling and we all have a purpose, so it's really the person connecting with their inner voice to determine what that purpose is, but I think that no matter what we choose as a career, we all have the ability to give back. And giving back is really far more impactful to the person giving than to the person receiving, because you've grown in ways in which you can never imagine when you support someone else's journey, when you give back to a community. When you make philanthropy part of your core values, you'll always find that the community in which you live in and the universe will take care of you if you're always giving back. So I believe that philanthropy is a core value of mine, and regardless of how much money, time or resources I give away, I know that those gifts that I'm giving away have made me richer as a result of it because I grow — my mind, my spirit, everything about me grows.
HG: What would you consider to be your greatest achievement?
VA: My greatest achievement is the day I realized the power of self-awareness. My greatest achievement was when I realized that when I know myself and who I am and what I stand for, I can be a participant of society in a way that empowers me and others around me. My career has come with ups and downs, but I wouldn't trade any of it. Through each and every experience, I have become stronger and more secure in my values and how those values shape and guide my life.