The candidates for a new vice president for institutional advancement have completed their interviews and Ithaca College President Tom Rochon is now poised to choose the new addition to the administration.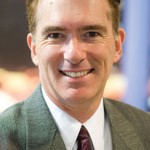 The vice president of institutional advancement is responsible for providing leadership and management for fundraising operations as well as working with the president and board of trustees to develop the college's direction and policy.
The search began after vice president Shelley Semmler announced she would retire in February.
Michael Archibald, former vice president for university advancement at St. Lawrence University; Nancy Harvin, vice president for advancement at the Culinary Institute of America;  and Richard Watkins, director of major gifts and campaign direction at Claremont McKenna College in California, are the three candidates.
Rochon said in an email that the search committee is making reference calls to former coworkers of the candidates to solidify their choice, but there is no set date for a decision.
"An important part of any search process is the assembly of additional information about candidates primarily through phone calls to people who have worked with them in the past," he said.
Archibald, originally from Ithaca, said what attracted him to the college was its scope and size.
"It's both small enough to focus on teaching and learning and student-faculty interactions and student experience, but large enough, through its schools and graduate programs, to have efficiency of scale in its efforts,"
Archibald said.
Harvin said her decision to apply for the vice president position at the college was rooted in the IC 20/20 vision plan and what she saw as strengths of the college's Institutional Advancement division.
"It's not broken," she said. "The advancement function is working beautifully. I believe in Tom Rochon; I have found the right president."
Watkins said the college has a hands-on educational environment that is not often seen in other places. He said it also has a strong connection to the liberal arts and professional schools.
Carl Sgrecci, vice president of finance and administration, said it is unclear when the new vice president will take office because it all depends on whether he or she will be allowed to leave his or her current position immediately.
Though the college hopes the candidate will take office by March 1, Rochon said it is more important that they focus on choosing the right person, rather than trying to make a deadline.
"The most important thing is to make a great hire, not to make one by a given date," he said.