Ithaca College's Center for Counseling and Psychological Services is holding Suicide Prevention Week, a series of events  highlighting mental health through films, speakers, workshops and support groups.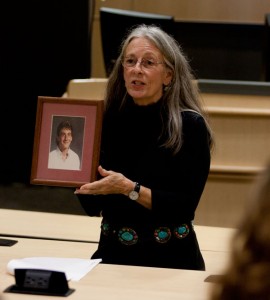 The week kicked off at 7 p.m. Monday in Textor 101 with a film titled "The Truth About Suicide." LeBron Rankins, campus psychologist and adviser to the mental health awareness campus group Active Minds, presented the film to educate students about suicide warning signs with real college stories.
"A young woman after last night's film had said the film motivated her to take people's comments more seriously and to be more concerned when she finds herself worried about someone," he said. "It's that type of behavior change that we aim for to increase individuals' awareness."
Mardis Kelson, a mother of a suicide victim, came to speak on Tuesday about the aftermath of her son's suicide. Pathways, a workshop to educate people on how to recognize and respond to distress, was held yesterday.
The final workshop will be for those personally affected by suicide and held at 7 p.m. today in Textor 101.
For the rest of the week, a banner will stand in the center of the academic quad promoting the Stomp Out The Stigma campaign, which emphasizes the importance of voicing personal mental health concerns without shame. The campaign, which will continue all year through Active Minds, will promote CAPS services and provide information about where to seek help.
Rankins said suicide can't be eradicated, but it can be prevented through organizations such as CAPS, Pathways, and Active Minds.
Junior Erin Irby, co-chair of Active Minds, said she encourages students to take advantage of the counseling center.
"We work with CAPS to spread the word about the services that they have," she said. "We really strongly believe in the ripple effect, so we educate our group about mental health issues and about access to the counseling center. It's free, it's easy, it's always there and because we know, we try to spread the word."
Irby said Active Minds is composed of a strong group of people who are focused and motivated to change the perception of mental illness.
Rankins said psychiatric disorders are often misunderstood because people do not know a lot about them.
"Mental health is one of those things that is unlike a physical injury or disease where you can go in and cut it out or give a pill to try to fix things," he said. "Mental health is more complicated than that."
Deborah Harper, psychologist and director of CAPS, said the program makes sure students don't feel alone.
"The main thing is that people feel like they don't have to deal with anything totally alone," she said. " So we try to make enough of a network so people feel like they can get what they need, when they need it."