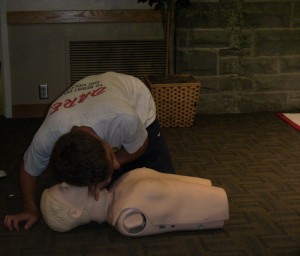 Sixteen students gathered at 8 p.m. Thursday at Klingenstein Lounge to learn how to respond in an emergency situation.
At the third workshop of the "Don't Just Stand There" initiative this semester, students came away with a better knowledge of how to perform CPR, the Heimlich maneuver and rescue breathing.
Senior Isaac Lief, a certified EMT, taught the workshop. Lief was also the creator of the program, which he instituted at Ithaca College this year after hearing that a family friend had begun a similar project at another college.
"I thought it was a really good idea," Lief said. "It's common sense and people should know it."
Lief focused on skills that students might need to know in case of an emergency, gearing lessons specifically to college students by addressing situations one might encounter on a college campus.
In addition to teaching basic first aid skills, Lief talked about the medical amnesty policy, which protects the caller and the victim from punishment in an emergency situation involving drugs or alcohol. The Good Samaritan Law, which Lief also addressed at the meeting, prevents a person who is assisting in an emergency to be held lawfully responsible for any injuries sustained in the process of administering aid.
Fire protection specialist Enoch Perkins was a guest speaker at the workshop, outlining what his job on campus was and how useful the Office of Public Safety is in an emergency.
"When we get on a scene our primary concern is the health and well-being of the patient," Perkins said. "We want to see that everybody goes home safely."
Junior Chelsea Taylor, who is also a certified EMT, helped present the workshop and focused on what to do in an alcohol or drug related emergency.
"A lot of these situations unfortunately do occur on campus all the time, and students are afraid to help because they've never been certified," Taylor said. "This kind of gives them that sense of confidence."
Junior Peter Garrity found out about the workshop through the student leadership institute website. After attending the workshop, he said he would recommend it to other students.
"It's important information that I feel like I should have known already, but I'm glad I know now," Garrity said.
Lief said he will continue to offer similar workshops throughout the year.
"Students can learn the confidence to approach someone in an emergency situation and at the very least see if they're okay," Lief said.