Nonfiction writer Eula Biss composes descriptive and emotional prose that encourages readers to contemplate  real-life issues that occur in everyday life. Her book, "Notes from No Man's Land: American Essays," is an award-winning compilation of essays about America and race. She currently teaches nonfiction writing at Northwestern University.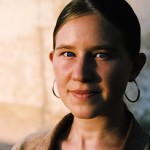 Contributing Writer Sara Webb spoke with Biss about her work, the process of writing and why she writes about racial identity.
Sara Webb: Why did you choose nonfiction?
Eula Biss: I don't think I chose to write nonfiction as much as I found myself writing nonfiction. It was a very organic and gradual process for the most part. I was writing prose poetry for quite a while and my prose poems started getting longer and longer until eventually I began to wonder whether I was writing something other than prose poems. Now, I write nonfiction with quite a bit of intense consciousness and awareness of the tradition that I'm writing within.
SW: What subjects do you write about?
EB: Writing about race is a place that I found myself mostly because that's a place where I wanted to clarify my own thinking. There were a lot of problems within my own life that I wanted to work through and look at and examine, and the tool that I found useful was my writing. I am drawn to subjects that challenge me as a thinker. I like to write about subjects that I know that there is something at stake and that there is something important to gain by reaching greater clarity on a subject.
SW: What are you most passionate about?
EB: I'm interested in the way in which systems of racial oppression damage people. One of the things we don't talk about often is how the complicity of white people in the face of racial oppression damages and reduces them and does harm to our minds and our souls.
SW: What sort of advice can you offer aspiring nonfiction writers?
EB: Nonfiction is such a large field, and there are so many different things going on within this broad genre that it's hard to say anything that would speak to everyone writing within nonfiction. But advice that I work from and give to my students all the time is to use reading as your primary tool for solving problems in your writing. That's how many of us who teach creative writing work; we use readings as models for writing. The way authors solve problems in their text is the way that we think about problem-solving strategies in our own work. My advice boils down to a simple one-word response, which is read.
SW: How long does it take to write a book?

EB: The earliest essay was written in 2002, and the book was more or less finished in 2007. That was a long enough period of time that near the end of the process some of the essays that I had written earlier had to be revisited and revised again.
SW: What do you hope to gain by writing?
EB: It's different from essay to essay and project to project. … I'm trying to unravel my own thinking, and in that process of unraveling that thinking I hope to come to greater clarity on a complex subject.
Eula Biss will discuss her writing at 7:30 p.m.  Wednesday in Clark Lounge.