About 30 students and Ithaca residents gathered Thursday in Klingenstein Lounge to listen to Steve Stern, an award-winning author and Skidmore College professor, read from his latest book.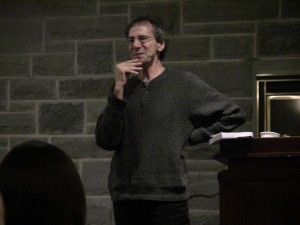 Stern read the first three chapters from his latest novel "The Frozen Rabbi," about a young Memphis boy who discovers an old rabbi preserved in a block of ice in his freezer. When the rabbi is accidentally defrosted, the young boy learns the story of the rabbi's past.
Stern has written many critically acclaimed novels in his career and has won the Jewish Book Award and two Pushcart Prize awards. Many of his novels, like "The North of God" and "Isaac and the Undertaker's Daughter" are inspired by Yiddish folklore.
Before reading, Stern joked that he wrote about implausible events because his own life is exceedingly boring. Stern said the opening scene of the novel was inspired by events in "Portnoy's Complaint" by Jewish-American writer, Philip Roth.
Stern said he was inspired to begin writing "The Frozen Rabbi" by an image rather than a specific idea.
"You tell people your dreams and they're bored to death," Stern said. "So how do you make them care about your dreams? How do you create a narrative that amuses, entertains, but at the same time allows them to enter your particular vision?"
Although Stern said he doesn't like to push themes or messages, he wants his audience to have an enjoyable experience when reading his books.
"I just want people to have a good time," Stern said. "If it helps them understand man's quest for meaning in a mechanized ethos, then good, but that's not why I write. I tell them — I don't explain [to] them.
Rebecca Lesses, coordinator of the Jewish studies program at the college, organized the event after discovering that students in the class, Jewish American Writers, enjoyed Stern's work. Lesses said students could benefit from Stern because of his humorous presentation and writing.
Sophomore Eric Krupa said he attended the reading for the Jewish American Writers class and enjoyed Stern's sense of humor.
"It's a subtle approach to tragedy and slightly humorous [way of] dealing with bleak situations," Krupa said.
Senior Simi Landau said she read "The Frozen Rabbi" over the summer after reading a positive review in The Washington Post. While Landau said she loved the book because of its humor, she also said the novel contained heavier cultural themes students can connect with.
"You don't need to go in with much Jewish cultural background to enjoy it," Landau said. "And you're not going to realize that you're learning while you read it."