Washington, D.C., may be bustling with the latest news and politics, but not with Ithaca College students.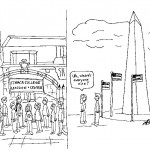 Of the college's three satellite campuses — Los Angeles, London and Washington, D.C. — students have shown less of an interest in studying in our nation's capital than in the other two. This spring, there are 68 students studying in L.A., 108 in London and 12 in D.C. The D.C. program has had fewer students consistently. Though the goal was to have between 20 and 30 students a semester, enrollment on average has been between 10 and 15.
Initially, the D.C. program was intended to appeal to students from across campus. But the program needs a focus. The L.A. Program is successful because it is marketed to students in the Roy H. Park School of Communications. Students who participate in the L.A. program are taking classes and internships that pertain to their majors. The D.C. program should be marketed to specific areas of study and have courses that will allow students to complete their degree requirements there.
If more students enroll, the college will invest more in faculty and class options. The college needs to promote students' D.C. internships — including ones at the Spanish Embassy, National Geographic and the U.S. State Department. If they aren't promoted, students won't know about them.
This academic year, $230,000 was allotted to the program. If the college cannot create more of an interest and enrollment remains low, the college should consider cutting the program to save money.
Washington, D.C., offers many opportunities in our nation's capital, but these opportunities mean little if only a handful of students attend.