The question last year was where would the largest freshman class in college history be housed. And now, as that class prepares to become upperclassmen next year, the question once again is where will they all be housed.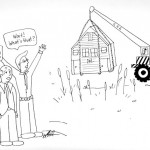 Plans are now being pushed back for the expansion of the Circle Apartments because of the presence of wetlands. Instead of being completed by August 2011, the apartments are now scheduled for Summer 2012. The number of new occupancies has also been cut in half.
If more apartments are not added to the campus, a number of juniors and seniors may opt to stay in the dorms — creating the potential for temporary housing for incoming students. The college may also lose money on room and board costs as more students decide to live off campus. For local landlords, this will be good to hear.
In the future, the college needs to do better planning for housing. The college should have known about the presence of wetlands before scheduling its plans. While the college does always find places on campus to accommodate students, the rooms are often not ideal and take away from the experience of living on a residential campus. Last year, more than 600 students lived in "extended occupancy" for the first semester, and the college built Terrace 13, a modular building to house freshmen that cost the college $3.1 million. The college needs to expand housing options so there is no temporary housing and the students in Terrace 13 have rooms when the lease for the building is up.
For upperclassmen, living in a double or single dorm room is not ideal. As students become older, they want to live in apartments that will allow them to mature and transition into adulthood. With such a large sophomore class this year, the college should have better planned future accommodations.