Since I've been at Ithaca College, most of my friends have traveled back to their respective hometowns to see a championship parade. I've seen the Boston Red Sox and Celtics win it all, New Yorkers have celebrated Giants' and Yankees' victories, and Philadelphians have partied on Broad Street for the Phillies. But now, there is potential for a championship parade through Ithaca itself. Mobs of people could be packed in from Collegetown to South Hill, State Street to College Avenue and on The Commons. All that needs to happen is for the Cornell University men's basketball team to win its next four games.
As a proud Ithaca Bomber, it's difficult for me to root for anything per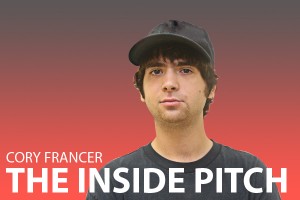 taining to Cornell. I don't like the Cornellian sense of entitlement, I don't like frat parties, and I don't like how Cornell students think Ithaca ends at East Hill. Seriously guys, you're allowed to leave Collegetown. It's not that scary out here.
But, for the month of March I'm putting my biases aside and rooting for what would be best for Ithaca. I'm temporarily shedding my Blue and Gold for the Red and White. However, before I completely jumped ship, I needed to explore "that other school in town," and see what the natives were saying about their NCAA Tournament Sweet 16 team.
My cross-town travels took me to Helen Newman Hall, where I spotted a pick-up basketball game and figured these people would be the ones to bring me up to speed on the Ivy League champions.
I wasn't too sure about how much enthusiasm there would be, especially given Cornell's history and prowess in ice hockey. But even with the Big Red hockey team set to make a run at a national championship, it seems like basketball is generating more excitement.
"In the past it's mostly been about hockey," Cornell senior Murli Gupta said. "But basketball is huge right now."
Even though Cornell's Newman Arena doesn't pack in the fans like Syracuse University's Carrier Dome, Cornell students will be trying to turn the typically orange dome into a sea of red for Cornell's third-round game against No. 1 seeded University of Kentucky on Thursday in Syracuse.
"I think it's $160 for three games, and it's a lottery system," Cornell senior Anirban Chowdhury said. "But it's a once-in-a-lifetime opportunity. I don't expect Cornell to make it back for a long time."
But Cornell is still alive in the tournament, and even though it doesn't seem likely, there is still some hope the Big Red will be cutting down the nets in Indianapolis.
"I don't know what would happen [if Cornell wins]," Gupta said. "But things would definitely get pretty ridiculous."
Cory Francer is a senior sport studies major. Contact him at cfrance1@ithaca.edu.