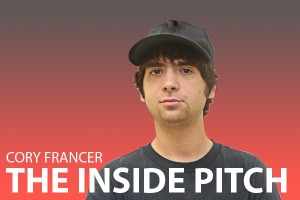 Sports writers are the ones responsible for documenting the history of athletic competition. So while we scribes are documenting the history of others, who will be preserving our history — the history of sports journalists?
When last week's issue of Sports Illustrated arrived at my house, I couldn't believe what I saw. Frank Deford, one of the greatest sports writers of all time, had written a story about his nearly half century of covering athletics.
Deford gives out a cry for the return of the old school. In his time, newspapers ruled the media landscape, and the writer was king of the press box. His job when he started reporting was to tell people not at the game what they could not see. Now, with 24-hour sports channels and online coverage, the sports audience has a constant eye on athletes. Instead of reading about sports in black and white, all people have to do is tune their high-definition TV to ESPN, and they have a better view of a game than the people in attendance do.
Though he doesn't flatly come out and say it, Deford implies that no matter where the industry goes, there will always be sports writers. Aside from the classic romantic quality of being the scribe on the inside of athletic competition, there are always stories that are best written rather than broadcast.
Deford tells about how on a plane from Birmingham, Ala., to Atlanta, he came across a story about a junior college football coach named Bob "Bull" Sullivan in a local paper from Jackson, Miss.
Sullivan was already revered in Mississippi for his coaching prowess and personality, but since he was only coaching at the junior college level, a national television station wouldn't run a story about him. But Deford was inspired to write the story for Sports Illustrated. Because of Deford's story, Sullivan was later inducted into the Mississippi Sports Hall of Fame.
These are the types of stories that Deford says do not appear often enough in print, but they are what could keep the profession alive. After all, the writers were the ones who were in the press boxes first and have the closest relationships to their subjects. Writers are the ones focusing solely on their topics rather than their appearance for a camera.
Deford says sports were never meant to be showbiz. There has always been an entertaining quality to athletics, but that needs to remain entertainment. When owners try to jazz up their stadiums, taking away from the value of the game, or when publications go against their original intent (i.e., the swimsuit issue), it shows that journalism is not keeping the readers hooked. Hopefully, with people like Frank Deford guiding us, the new generation of sports writers can find the important stories.
Cory Francer is a senior sport studies major. Contact him at cfrance1@ithaca.edu.