With the recent announcement of Provost Kathleen Rountree stepping down and the hiring of two new deans at the college, President Tom Rochon is at a crucial crossroads in his tenure, finding himself in the position, for the first time, to implement substantial changes to his administration that will help shape the college's mission and immediate future.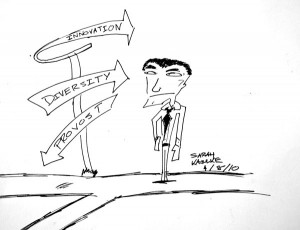 Filling the positions of dean of the Park School of Communications and the business school were major shifts in power. Gregory Woodward, dean of the Music School since 2008, is also a relatively new contributor to Rochon's administration. After having Rochon handpick these new deans, finding the appropriate replacement for the provost becomes all the more important.
This is a new beginning for Rochon and the college. The provost is the liaison between the faculty and the administration, which is why choosing someone who can facilitate a stronger relationship with the deans, faculty and staff is crucial to helping Rochon reshape the college's mission.
As the college nears the end of an academic year that left campus members feeling positive about the future, Rochon has urged caution for what he calls a "crisis in higher education." In response, he has announced the formation of an innovation committee but is not sure when or if a concrete plan of action will emerge from it. The president's committee on diversity will also meet again, but past experience shows how difficult it is to meet the college's ambitious diversity goals.
At a time when the college is struggling to find its identity, the new provost can be the person who motivates the faculty to move forward. It is clear that new ideas are needed. IC2 has yet to prove itself as the defining initiative it was intended to be. Rochon's  call for "innovation and creativity" still needs a clear and concrete focus.
The college finds itself in a time of change, and it's up to Rochon to lead the campus community in the right direction.