It's a phoenix. It's a flying squirrel. It's a lake beast. No, it's Ithaca College's mascot.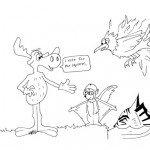 The three finalists for the college's mascot have been announced. Students and alumni have been tweeting their thoughts about the mascot search. From alumni saying they'd be embarrassed if we become Bomber the Flying Squirrel to students wondering what a lake beast is, the feedback has been strong. There have been some positive tweets — mostly just for the phoenix.
The Office of Marketing Communications should include other finalists. The three finalists do not represent the college community. Responses on Twitter show the finalists to be unpopular.
The search committee has been gathering feedback from the beginning, but there should have been a voting process instead. Before the college decided to go ahead with a mascot search, it should have asked the community if they wanted a mascot. Tweets have mentioned many were content just being the Bombers. At the very least, the Office of Marketing Communications should have let the community vote for the top 15 and then narrow it down to three finalists.
Rather than just gathering feedback on the existing options, the community should be offered the option to reject all three finalists. Votes give students and alumni more of a say. Because the feedback will only be seen by the search committee, this is a way for students and alumni to be heard. And if all three finalists are deemed to be unacceptable, then the Office of Marketing Communications needs to provide the community with new finalists.
Students and alumni need to respond to the survey sent out this morning. They need to send their thoughts directly to the Office of Marketing Communications so data can be compiled.
If the survey's feedback is as strong as tweets have been, then the Office of Marketing Communications needs to reconsider the selection process.