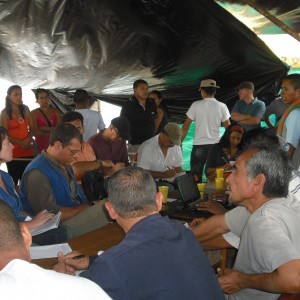 In the presidential candidates' foreign policy debate last week, Latin America got mentioned briefly, and only in reference to how much of an opportunity it would be for the U.S. government to strengthen economic free trade ties in a region booming with oil and other minerals. It is easy to see how the public can buy into this, as there is rarely any deep discussion of the real economic, political, social or cultural context of different countries in the region. Often the best way to gather an understanding of the political processes and the sentiments brewing in regions that seem far away is to actually get involved — to get active.
My involvement in Colombia began here in central New York when I met a group of activists from the local chapter of the Colombia Support Network, a Wisconsin-based organization created to support Colombian communities and organizations that seek to construct a just social and economic order using non-violent means. Our local chapter established a sister community with a peasant campesino movement in Cajibío, Cauca.
The Peasant Movement of Cajibío (MCC) struggles with problems related to the nearly 50-year armed conflict — and the war and economic industry that surround it — that victimizes and displaces local civilian populations caught in the crossfire. The movement wants and fights for a say in what peace and social justice may look like when not decided from the top down.
Solidarity is at the core of why members of the movement want us to participate; it is important to them to know what we think, how policies in the U.S. affect us and how we can attempt to bring awareness about how policies in Colombia and the U.S. affect them. Perhaps the most important thing to get out of the exchange of ideas with this social movement is that they represent a different style of thinking about solutions — one based on ideas such as cooperative production and food sovereignty; collective rights to water, housing, education and health; and collective decision-making.
Educators are worried, as they do not want to see a repeat of what happened at the height of conflict in 1999, when the local school was left with only 35 children due to displacement. They now have 500, but many fear that this will soon change.
The conflict is no longer about coca, a plant used to make cocaine, or about controlling groups like FARC, but over territory. This means the military may well stay and take over their lands, which are rich in minerals like gold. Many families do not have land; indeed, 70 percent of the land in Cauca is owned by less than 5 percent of the population. The paper company Carton de Colombia, a subsidiary of Irish-Belgian conglomerate Smurfit Kappa, has contributed to this inequity by buying and taking over of lands.
Members also propose dialogue with local, regional and national officials to bring an end to military and other armed actors' presence in the heart of communities. But they need guarantees that this dialogue can happen without violent repercussions and with real attention paid to the communities' views. This request for dialogue desperately needs the support and continued monitoring by international humanitarian human rights and social justice organizations, advocates and activists, and principally by the U.S. government that has had such powerful and erroneous policy approach to the real problems at hand in Colombia.
Drug wars, militarization of the region and free trade agreements that threaten the ability of communities to thrive are not what it takes. It takes solutions that truly respect the life, dignity and desire of the people to stay in their own lands.