Riding into the lower ninth ward of New Orleans during my winter break from Ithaca College felt like crossing a border into another country. A big rusty drawbridge delivered a group of students and me to volunteer in the neighborhood that suffered the greatest from Hurricane Katrina more than seven years ago. Even by looking out the cab window, we could tell that seven years couldn't conceal the devastation that had occurred. The scenes seemed to scream "abandonment" and "emptiness" as they whizzed by. I began my trip wondering, if seven years couldn't restore this place, what good could we do in a single week?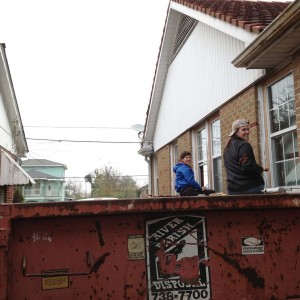 Walking around the neighborhood, we discovered many smiling faces and some brightly painted homes. However, these homes were sprinkled oddly among the houses still marked with eerie spray-paint numbers indicating how many people had been found dead inside. Empty, overgrown lots dominated the scene, as if the houses and the people living in them had evaporated. Buildings were half-built and abandoned. Hand-painted signs marked storefronts. Everything still seemed like a makeshift town.
We arrived at our worksite for the week: a sagging porch with a hole in it where someone had stuck his foot. To our surprise, the porch had been built just a few years before, but the contractor who built it had used untreated wood that had completely rotted.
Our worksite was one of the many examples of this new chapter in the nightmare of post-Katrina devastation: contractor fraud. After New Orleans residents had finally received compensation to rebuild, many contractors, licensed and unlicensed, took advantage of vulnerable homeowners by charging them for unsafe, unfinished or sub-standard work. Now a few years later, homeowners are forced to rebuild what was already rebuilt once. The problem is widespread. Everyone seems to know someone else who has suffered from contractor fraud.
The frustration never seems to end for these homeowners, and few people outside New Orleans seem to be aware of their ongoing challenges. I'm concerned that we've forgotten post-Katrina rebuilding as a cause and that we're forgetting that we can still help. Just because the media have abandoned New Orleans doesn't mean we should too.
There is surely more work to be done in New Orleans. The people there will tell you that volunteers have been a significant force in the recovery from Katrina. Volunteers actually did much of the rebuilding that one sees today in New Orleans. More people, especially students, should consider volunteering in New Orleans
It is unjust how long homeowners have had to wait to get their lives back. The more students who are willing to donate a week, the more people in New Orleans can return home.
Jnna Jablonksi  is a senior Park Scholar who spent part of her winter break volunteering in New Orleans. Email her at jjablon1@gmail.com.